Simple homemade banana bread recipe packed with delicious flavor! This recipe makes an incredibly moist and flavorful loaf of banana bread using frozen bananas.
If you've been to this site before then you may have seen one of my many banana bread recipes. But I can safely say that this recipe is the moistest, most flavorful I've ever made.
And the key to the amazing flavor and texture is from using ripe, frozen bananas. This makes all the difference when making banana bread so I'm guessing once you try this recipe you won't be going back to another recipe anytime soon!
How to Bake Homemade Banana Bread using Frozen Bananas
So if you have some super ripe bananas you are ready to get started making this recipe! And don't be surprised when you find it's the most flavorful banana bread you've ever had. I've warned you!
Before getting started, take your ripe banana (the riper the better) and peel them. Stick your peeled bananas in a freezer safe bag or container, seal them, then pop them in your freezer.
I like to plan ahead by freezing them overnight, but as long as you get them in your freezer for at least a few hours you are good to go.
When you use frozen bananas, you impart a ton of flavor and moisture in your banana bread. It's so incredibly tasty that it's well worth the minor amount of planning needed to get your bananas frozen.
And when it comes to supplies, all you need is a loaf pan, large mixing bowl, and a good old fashion wooden spoon to whip everything together!
Once you have your bananas frozen and ingredients together, prep time is around five minutes and bake time about sixty.
Alright, now let's get to the good stuff!
Related Recipe: Banana bread without baking soda
Ingredients
The following is all the ingredients you need to make this great tasting banana bread recipe. A little further down you will also find some ideas for add ins you can use to bring additional flavor to your loaf.
All of these are entirely optional, so feel free to skip the add ins if you want but you may just find some flavor inspiration that you can't resist.
You will also find some ingredient alternatives just in case you are out of any of these ingredients. But since we will be using kitchen staples, you most likely won't need any substitutions.
Frozen Bananas
All-Purpose Flour
Granulated Sugar
Unsalted Butter
Salt
Egg
Vanilla Extract
Baking Soda
Baking Powder
Substitutions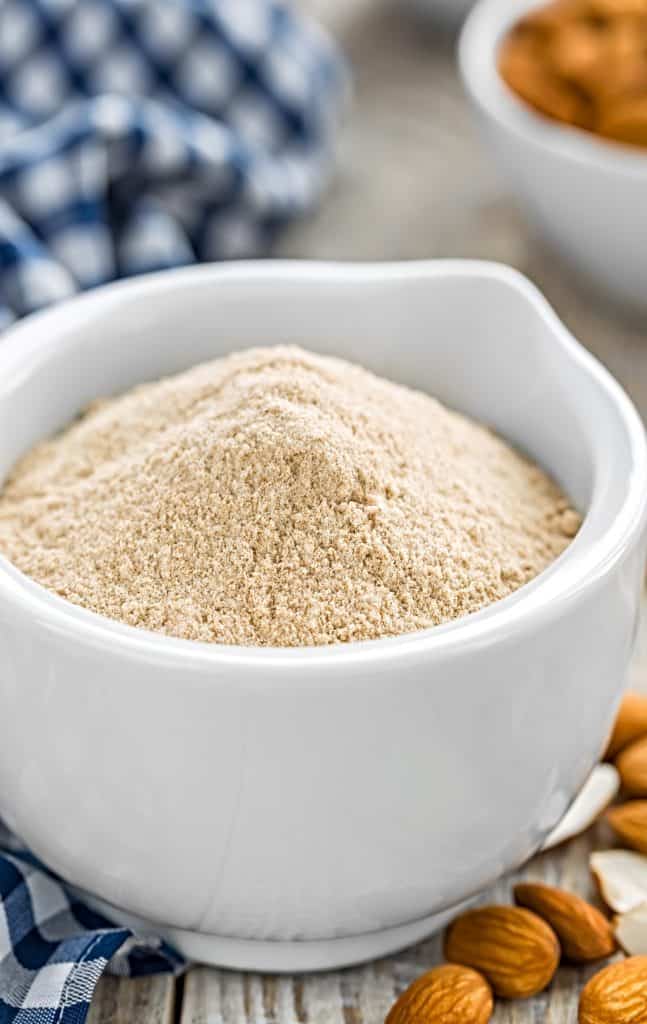 While we will be using common ingredients for our recipe, there is a chance you are missing something. So here you will find alternative ingredients you can use for your banana bread.
Keep in mind that using an alternative can alter the final flavor and texture, but they will work in a pinch and allow you to bake your banana bread.
Bananas: Even if you don't have enough bananas for this recipe, you may still be able to make it by combining another ingredient with your bananas. Find out the best options in my banana substitutes for banana bread guide.
Granulated Sugar: White sugar provides the ideal amount of sweetness without adding too much moisture. But when you are out of granulated sugar, you can use an alternative in this recipe. Go with palm sugar, maple sugar, brown sugar, or cane sugar at a 1:1 ratio.
All-Purpose Flour: If you are out of all purpose flour, or would like to make this a gluten free recipe, there are multiple alternatives you can use. For gluten free flours go with arrowroot powder, cassava powder, or almond flour. If gluten isn't an issue, you can use wheat flour or self rising flour. If you use self rising flour, omit baking soda and baking powder.
Unsalted Butter: If you only have salted butter on hand, you can use it in this recipe. Just do not add any additional salt. You can also use ghee or margarine, but that will make a noticeable change to the final flavor. For more options, here is my guide to butter substitutes in banana bread.
Vanilla Extract: Vanilla extract is used to enhance the flavor of your banana bread. If you are all out you can use almond extract, vanilla bean paste, vanilla pod scrapings or just leave it out.
Add Ins
While this banana bread tastes absolutely amazing as is, there are some simple add ins you can use to bring some whole new flavors to your recipe.
You can use one or even a combination of any of these add ins. The key is to use a total of a half a cup to three quarters of a cup total of add ins.
Any more than that and they can overpower the other flavors in your banana bread.
Chopped Walnuts
Chopped Pecans
Chocolate Chips
Caramel Chips
Crushed Pistachios
Crushed Peanuts
Mint Chocolate Chips
Toffee Bits
Related: Flavors that go with banana
Instructions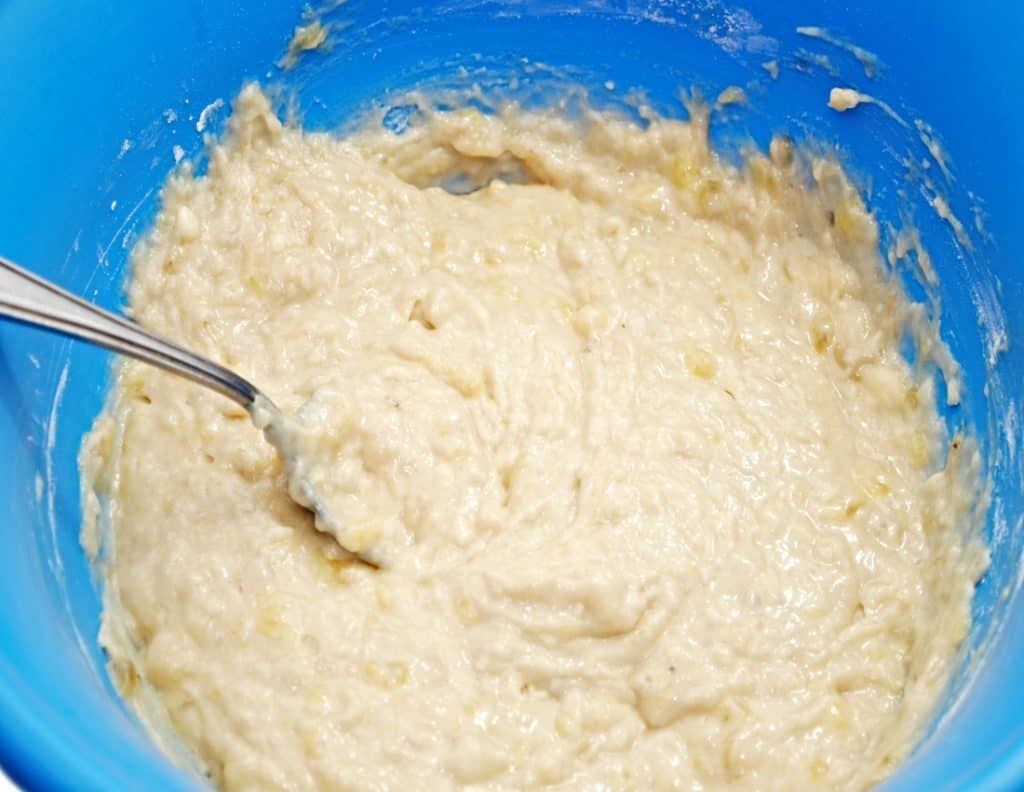 One of the most important steps when using frozen banana for banana bread is properly thawing them.
To thaw your bananas, place them in a microwave safe dish and heat them on low for thirty second increments until they are fully thawed.
This generally takes a few minutes but microwave temps do vary so make sure to check them as your go.
Once thawed do not discard any juices!
You want to keep those juice and add them to your mixture. The banana liquid is absolutely packed with flavor and also brings just the right amount of moisture.
Step 1: Preheat oven to 350 degrees.
Step 2: Thaw frozen bananas.
Step 3: Grease 9″x5″ loaf pan with butter or non stick spray.
Step 4: In large mixing bowl, add bananas and the juices and mash them with a fork.
Step 5: Melt butter and add it to your mashed banana along with vanilla extract, egg, and granulated sugar. Stir until well combined.
Step 6: Next add your all-purpose flour, baking powder, and baking soda. Stir until well combined.
Note: If using any add ins, stir them in now. Remember to use no more than 3/4 cup total of any add ins.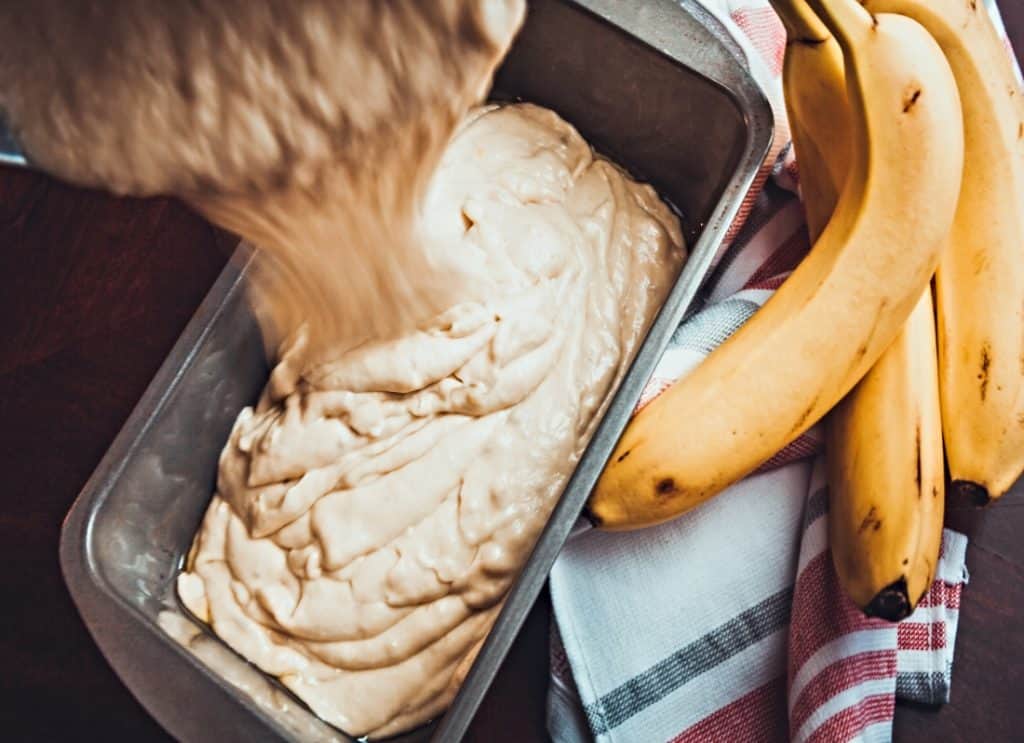 Step 7: Pour banana bread mixture into greased loaf pan.
Step 8: Bake in preheated oven for approximately 60 minutes. Your banana bread is done when you can insert a skewer and it comes out clean.
Step 9: Carefully remove from oven and cool on a wire rack.
Banana Bread From Frozen Bananas
Super flavorful and moist banana bread. Simple to make and a perfect breakfast treat or family dessert you can serve anytime of year.
Equipment
1 9×5 Loaf Pan

1 Large Mixing Bowl
Ingredients
4-5

Frozen Bananas

¾

Cup

Granulated Sugar

4

Tbs

Unsalted Butter

Melted

1

tsp

Vanilla Extract

1

Large

Egg

1½

Cups

All-Purpose Flour

¾

tsp

Baking Soda

½

tsp

Baking Powder

¼

tsp

Salt
Instructions
Preheat oven to 350 degrees

Thaw your bananas (Keep the juices!)

Add thawed bananas and the juices to mixing bowl and mash with a fork

Add melted butter, egg, vanilla extract, and granulated sugar to your mashed banana and stir until well combined

Add the rest of your dry ingredients and stir until well combined

If using any add ins, stir them in now

Pour banana bread mixture into greased loaf pan

Bake in preheated oven for approximately 60 mintutes. Banana bread is done when skewer insterted in center of loaf comes out clean

Remove from oven and cool on a wire rack
Nutrition
Recipe Notes
When storing your banana bread, make sure to cover it tightly and keep refrigerated. It will last in the fridge for up to four days.
Keep in mind that the refrigerator will dry it out over time, so it's always best to eat your banana bread soon after baking.
If you do not want to store it in the fridge, it can be stored at room temperature when covered for one to two days as long as not in direct sunlight or extreme heat.