I can't tell you how many times I've forgotten I was out of cinnamon while already in the middle of making a recipe that requires it!
I've even been to the store to pick some up only to find the cinnamon slot in the spice section was empty.
If you've found yourself in one of these situations no fear! I've got you covered with the best substitutes for cinnamon no matter what type of dish or beverage you're making.
These alternatives are also great for those who just aren't fans of cinnamon and want a change of pace.
The best part is that most of these substitutes for cinnamon can be found in your pantry or the store lickety split!
What are the best cinnamon substitutes?
The best alternatives and substitutes for cinnamon are nutmeg, cassia, cardamom, cloves, cinnamon extract, allspice, and pumpkin spice.
Which one you use will depend on exactly what type of dish you are making. The specific substitute depends on whether you are making a sweet or savory dish.
So read on for the top cinnamon substitutes and how and when to use them!
What Is Cinnamon?
Cinnamon is one of the most popular spices in US kitchens.
Cinnamon has a warm, spicy taste that goes particularly well in baked recipes. For many, the aroma of cinnamon is synonymous with their favorite holiday desserts.
At one point it was the most desired commodity in the world, cinnamon is harvested through a process called striping, where the bark of the tree is removed and left to dry. Once dried, it is then rolled.
Today, cinnamon comes from several different countries such as China, Ceylon, Mexico and Indonesia. Cinnamon can be purchased either as whole sticks or ground into a powder.
The different types of cinnamon used by cooks are Ceylon and cassia. Ceylon is a lighter color and milder in taste while cassia is darker and a bit stronger in taste. Both are sold as whole sticks or ground into powder.
Cassia is more common, but both can be used when cooking or baking.
What Is Cinnamon Used For?
Cinnamon is a well-rounded spice. It can be used in breads, fruit dishes, pastries, cookies, cakes, pies vegetables and even in beverages like coffee or tea!
It really does make everything taste better, from apples to zucchini! It complements baked goods well without overpowering them and pairs well with many other spices.
You will find it in all types of desserts like brownies and cinnamon rolls. In fact, if you ever made any of my recipes here on Treat Dreams, then you will see that I love baking with cinnamon.
Types Of Sweet Recipes That Use Cinnamon
Cinnamon is a key ingredient in many baked recipes. It's used to make delicious treats as well as many holiday favorites!
Here are some popular examples of cinnamon sweets
Cinnamon muffins: As the name suggests, these muffins are full of cinnamon flavor and topped with even more cinnamon. I make these for breakfast and they go wonderfully with my morning coffee.
Brownies: Brownies are one of the most popular desserts here on Treat Dreams. There are a number of great cinnamon brownie versions you can try. This is on of my favorites.
Cinnamon rolls: This classic breakfast pastry puts the great flavor of cinnamon at the forefront. Try this great recipe.
Cookies: Cookies can be sweet or savory depending on what you add to them. And there are many wonderful recipes for cinnamon cookies. Here is a great example.
Coffee Cake: Classic coffee cake incorporates cinnamon in the cake and the crumble topping. Here is a great coffee cake recipe to try.
Savory Dishes Made With Cinnamon
Cinnamon is also used in savory dishes. Here are some dishes that use cinnamon:
Chicken with cinnamon: I make this recipe all the time for my family and it's always a hit! The cinnamon pairs surprisingly well with the savory flavor of chicken and garlic powder.
Cinnamon pork chops: My husband loves when we have these pork chops for dinner. He says he could eat them every night! The chicken, apple, and cinnamon is an amazing combination.
Spicy cinnamon beef: If you're looking for a new way to cook beef, give this one a try. It brings together cinnamon, beef, and rice for a filling family dinner.
Drinks Made With Cinnamon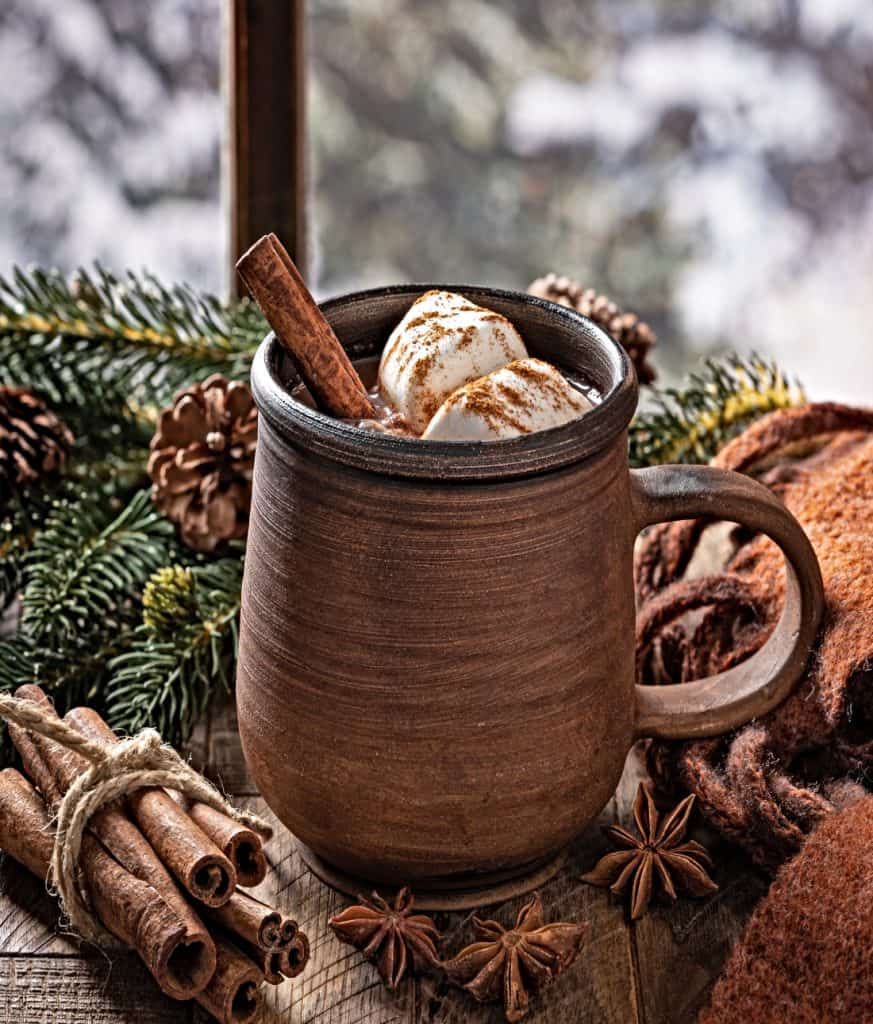 Cinnamon isn't just for cooking. Cinnamon is also a popular addition to many drinks. Here are some of them:
Hot chocolate: There are many ways to make hot chocolate but this one is by far my favorite! Simply make your cocoa, top with whipped cream and then sprinkle with ground cinnamon.
Cinnamon coffee: I'm a huge fan of coffee and when you add cinnamon to it it's amazing! Go light when adding cinnamon to your coffee. A little milk or cream and then a sprinkle of cinnamon and you have a great cup of coffee.
Tea: My favorite tea is chai tea, and while I usually drink it plain I have tried it with a bit of cinnamon added in too. Be careful not to use too much, as the flavor can quickly become too strong.
Cinnamon Alternatives for All Types of Recipes
Cinnamon is a very popular spice and is called for in so many types of recipes. But just because you don't have any (or don't like the flavor) doesn't mean you can't make that recipe you have your heart set on.
Most of the following alternative ingredients can be found at most local grocery stores. But some you may need to hit a specialty store or online retailer to find.
Cloves
These slices of dried flower buds have a strong spicy smell similar to the taste of cinnamon. There are large cloves as well as small ones.
Clove has a slightly sweet flavor with warmth and a strong aroma that pairs wonderfully in recipes that call for cinnamon.
In fact, you will find many cinnamon based recipes also call for clove. This spice is one of my favorite subs for cinnamon because it works well in all types of dishes.
1 teaspoon of cloves equals 1 teaspoon of cinnamon.

Conversion
Allspice
This is actually a dried chili also known as pimenta. With it's strong flavor, similar in intensity to cinnamon, and citrus notes it works well in any dish that calls for cinnamon.
This spice has been used in baking and cooking for generations and is a great all around alternative to cinnamon.
Is flavor profile contains notes of cinnamon, pepper, nutmeg, clove, fennel, and star anise. It provides a wonderful flavor that I find is particularly well suited for baked goods.
1 teaspoon of allspice equals 1 teaspoon of cinnamon.

Conversion
Nutmeg
This is the most common alternative to cinnamon. It can be used in cakes and pies and even vegetables! It pairs perfectly with just about any recipe that calls for cinnamon.
It's also one of the most common spices on the list, so there's a great chance you have some on hand already.
Nutmeg provides warmth (less than cinnamon) and a nutty flavor that is particularly well suited for those who don't enjoy the taste of cinnamon, or want to tone it down a bit.
1 teaspoon of nutmeg equals 1 teaspoon of cinnamon.

Conversion
Clove Sugar
You can combine ground clove with cane or brown sugar for a sweet and tasty cinnamon substitute. This is best suited for baked goods or beverages that call for cinnamon.
Clove sugar is incredibly easy to make. To make your own, use a 1:1 ratio of ground clove to sugar.
Try this combo with hot beverages for a unique and tasty flavor alternative.
1/2 teaspoon of ground clove with a 1/2 teaspoon of sugar equals 1 teaspoon of cinnamon.

Conversion
Cassia
Ok, so cassia is a type of cinnamon (the most commonly sold in stores) but I included it because I am often asked if cassia can be used in place of Ceylon cinnamon.
And while the flavors are not identical, cassia is similar enough to Ceylon that it can be used in a pinch.
1 teaspoon of cassia cinnamon equals 1 teaspoon of Ceylon

Conversion
Pumpkin Spice
Store-bought pumpkin spice is often a combination of cinnamon, ginger, nutmeg and cloves. It's frequently used in fall flavored dishes so it can be used instead of cinnamon in many recipes.
While the exact spice mix does vary by brand, almost all will contain cinnamon. The trick is to adjust other spices to avoid an odd ratio.
I've found it best to eliminate individual spices from your recipe if they are present in your spice mix. Other than that, keep a 1:1 ratio of all spices replaced by using pumpkin pie spice.
Cardamom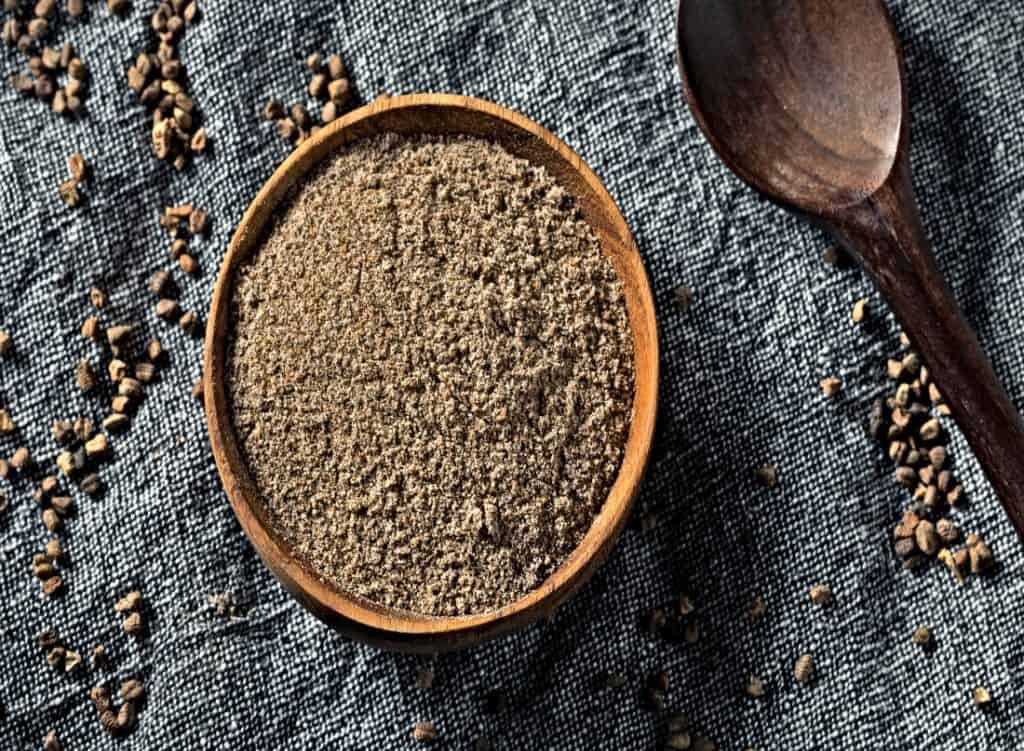 Cardamom is another solid alternative to cinnamon. It's best when used in blends like cardamom coffee or in curries and rice dishes.
But it can be used in sweet dishes if you're open to an interesting flavor combination. Notes of cardamom include mint, eucalyptus, and pepper.
It will impart a warmth to your dish, somewhat similar to that of cinnamon.
1/2 teaspoon of cardamom equals 1 teaspoon of cinnamon

Conversion
Cinnamon Extract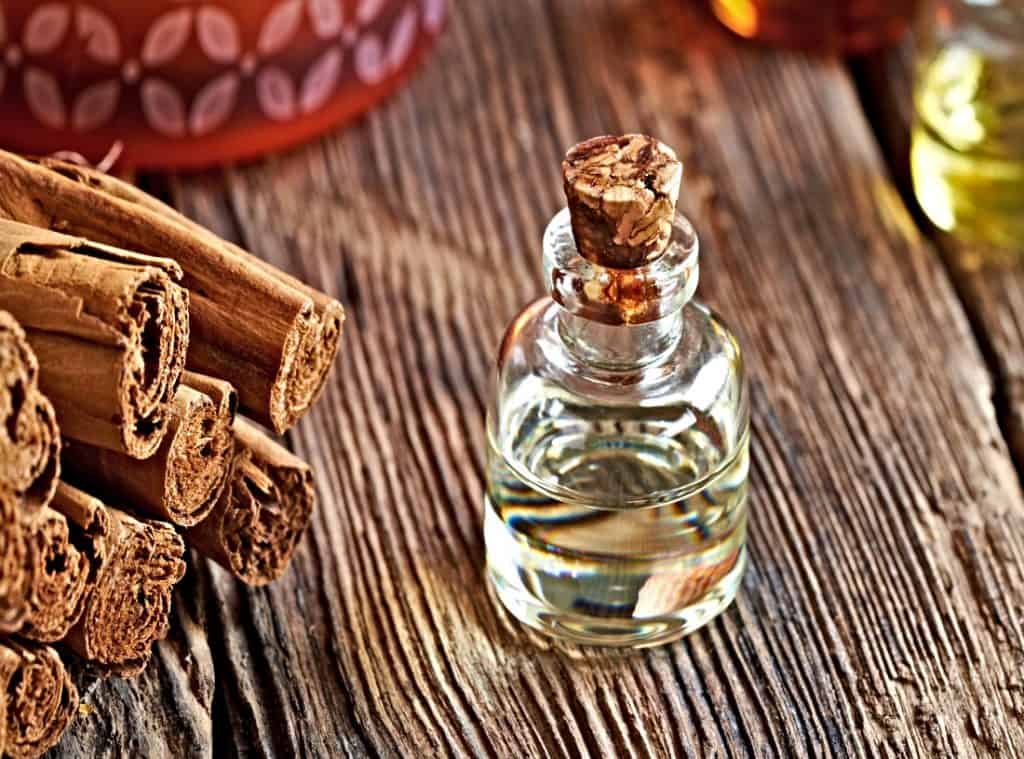 Cinnamon extract is a good substitute for cinnamon but you must use care because it is highly concentrated.
So even though cinnamon offers a strong flavor, cinnamon extract is much stronger by volume. To make things even more difficult, the potency will vary depending on brand and the quality of the extract used.
For this reason, it's important to start with just a few drops of extract and increase based on taste.
Cinnamon extract is a solid option for baked and heated recipes, but should not be used in dishes that are not cooked.
Cinnamon Sugar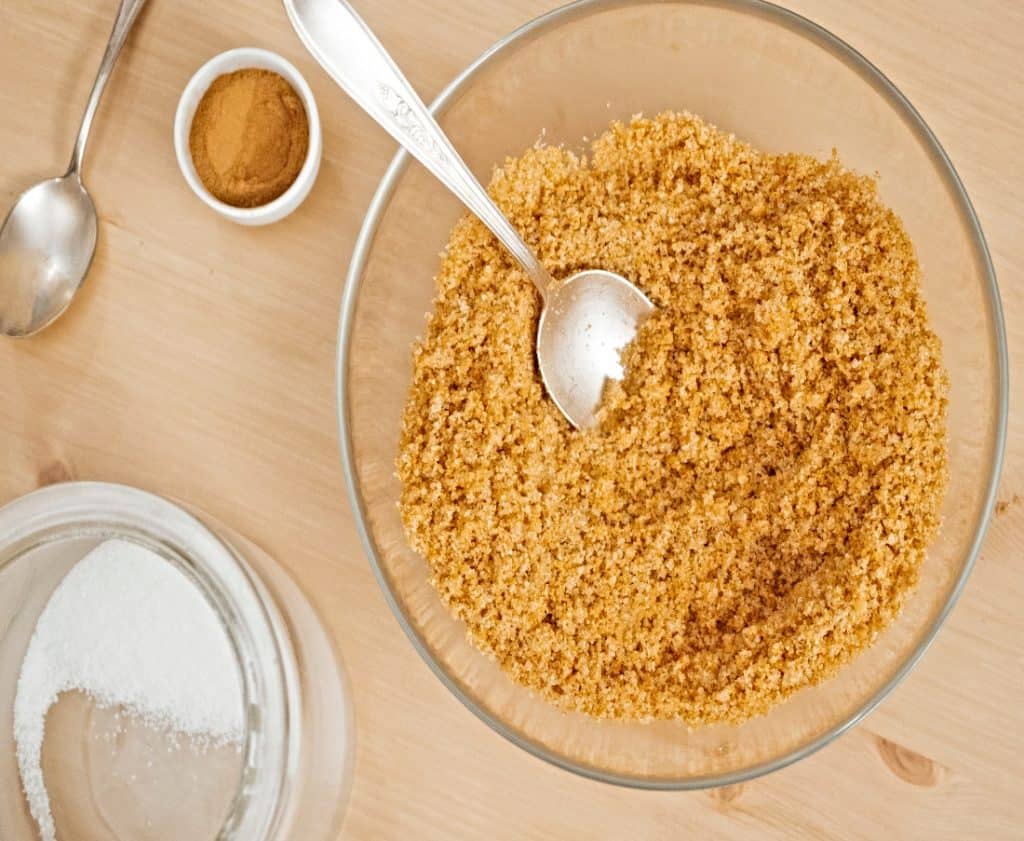 Cinnamon sugar is exactly what it sounds like, a combination of cinnamon and sugar. And it can be used in many recipes that call for cinnamon alone.
You have to think, you're simply adding sweetness to the cinnamon, so it works best in dishes like baked goods or beverages.
1/2 – 1 teaspoon of cinnamon sugar equals 1 teaspoon of cinnamon

Conversion
Using Cinnamon Sticks in Place of Ground Cinnamon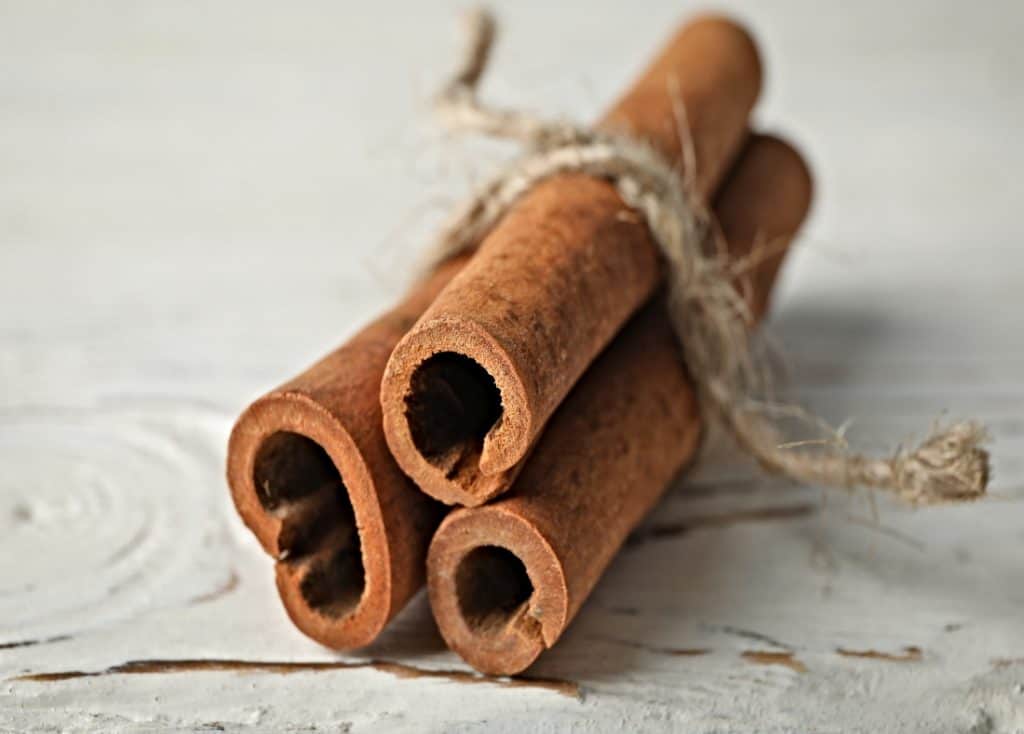 Yes, you can use cinnamon sticks when you're out of ground cinnamon.
However, there are a few differences. When using cinnamon sticks for cooking or baking you need to remove the peel first and then slice and grind the cinnamon stick to make it a fine powder.
To do this, just use a sharp knife to remove the outer, harder cover of the stick. Then slice it in half and cut it into smaller pieces. Grind it up with a mortar and pestle until a fine powder forms.
You may need to grind it several times if you have a large amount of cinnamon sticks that need to be ground.
When using ground cinnamon to add a warm flavor to food, you'll usually want to use it as a replacement for ground cloves.
The peels of cinnamon sticks are harder than the cinnamon that's used in baking. To make it work in baked goods you need to grind up the stick into a very fine powder.
In some instances, you can substitute ½ teaspoon of ground cinnamon for one teaspoon of ground cloves.
As long as you grind it very fine, cinnamon sticks can be used as a 1:1 sub for cinnamon in any recipe.
Bottom Line
If you don't have or don't want to use cinnamon in a recipe there is no need to worry. There are many great substitutes and alternatives for cinnamon. Use any of the ones above and you are sure to make a great dish!