Great flavor and texture bran muffin recipe from bran flakes. Perfect for a tasty breakfast or snack on the go.
A lot of bran muffin recipes have a dry texture, but that's not the case with this recipe! This is my all-time favorite bran muffin, and since they are made using bran flakes, it's a quick and easy recipe to make.
Make sure to bookmark or pin this recipe so you can make them again and again!
These muffins have a wonderful flavor, but the texture is why I make them anytime my family needs a quick and delicious breakfast treat.
And even though this is a from scratch recipe, it's super easy to make and doesn't require spending a lot of time in the kitchen.
Have your muffins turned out overly coarse in texture? The most common cause is over stirring your batter. Also, be sure to bake at the correct temperature.

Muffin Tip
Related Recipe: Banana muffins from two bananas
How to Bake Homemade Bran Muffins from Scratch with Bran Flakes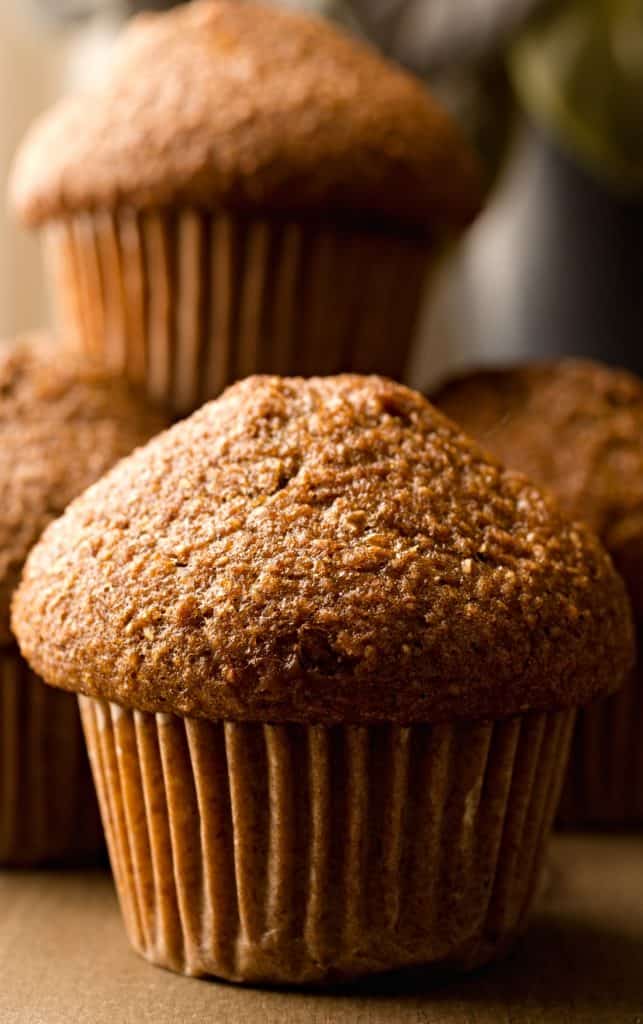 Prep time is less than ten minutes and bake time is under a half an hour. This yields a dozen standard size muffins, but it can be doubled if you are baking for a large group.
The only equipment you need is a couple mixing bowls and your muffin pans. Like I was saying, this is an easy recipe to whip up!
Related: Vegetable oil alternatives in muffin recipes
Do the center of your muffins have too high of peaks? This is also caused by over mixing your batter. Do not stir your batter past what is recommended in the recipe.

Muffin Tip
Bran Flake Muffin Ingredients
For this recipe, you're going to need a handful of common baking ingredients. As for your bran flakes, you can use any brand you prefer.
I've made these muffins using store brand as well as name brand, and the results have been great every time.
Brand Muffin Ingredient List
All-Purpose Flour
Baking Powder
Salt
Granulated Sugar
Bran Flakes
Milk
Egg
Vegetable Oil
All-Purpose Flour: Flour is the base for our muffins. You can use an alternative flour if you wish, but it will alter the final texture of your muffins. Some alternative options include wheat flour, cassava flour, and coconut flour.
Baking Powder: This is our leavening agent. It is what provides the height and lift we need for a great texture. For this recipe, I do not recommend using an alternative.
Sugar: I've found a half a cup of granulated sugar provides the ideal amount of sweetness for our muffins. If you like a sweeter muffin, increase the sugar by a quarter cup. For an even less sweet option, reduce the sugar by one half.
Vegetable Oil: Vegetable oil creates a moist muffin, but if you do not like baking with vegetable oil, you can use butter or an alternative oil such as olive oil or grapeseed oil.
Related: Substitute for eggs in muffins
Easy Recipe Instructions
This recipe doesn't require a lot of hard to follow steps. It's quite straight forward and prep time takes most people less than ten minutes.
So once you have all your ingredients ready, it's time to bake your muffins!
Step 1: Preheat your oven to 400 degrees
Step 2: Grease your muffin pans with butter or non stick cooking spray
Step 3: In your mixing bowl, add your all-purpose flour, baking powder, salt, and granulated sugar. Stir until well combined. Set aside
Step 4: In separate bowl, add your bran flakes and milk. Stir and let stand for about 2 minutes so your cereal softens up
Step 5: Add your egg and oil to your bran flake mixture and beat until well combined
Step 6: Gradually stir in your dry ingredient mixture until well combined
Step 7: Pour muffin batter evenly into muffin pans
Step 8: Bake in preheated oven for 23-25 minutes. Your muffins are done when they are golden brown
Step 9: Carefully remove from oven and cool your muffins in the pan on a wire rack
Step 10: Serve and enjoy!
Related Recipe: Blueberry muffins from cake mix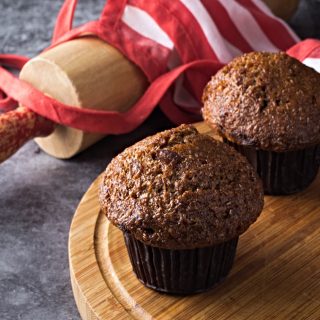 Bran Muffins With Bran Flakes
Moist and delicious muffins perfect for a breakfast treat or on the go snack.
Equipment
Muffin Pans

enough to bake one dozen muffins

2 Mixing Bowls
Ingredients
1¼

Cups

All-Purpose Flour

3

tsp

Baking Powder

½

tsp

Salt

½

Cup

Granulated Sugar

2½

Cups

Bran Flakes

¼

Cup

Milk

1

Large

Egg

⅓

Cup

Vegetable Oil
Instructions
Preheat your oven to 400 degrees

Grease your muffin pans with butter or non stick cooking spray

In your mixing bowl, add your all-purpose flour, baking powder, salt, and granulated sugar. Stir until well combined. Set aside

In separate bowl, add your bran flakes and milk. Stir and let stand for about 2 minutes so your cereal softens up

Add your egg and oil to your bran flake mixture and beat until well combined

Gradually stir in your dry ingredient mixture until well combined

Pour muffin batter evenly into muffin pans

Bake in preheated oven for 23-25 minutes. Your muffins are done when they are golden brown

Carefully remove from oven and cool your muffins in the pan on a wire rack
Nutrition
Recipe Notes
You can add stir ins to these muffins. Try raisins, your favorite nuts, dried cranberries, or even chocolate chips. Stir them in at the very end of mixing your muffin batter.
You can use cupcake liners if you prefer. Just line your muffin pan with them before pouring your batter.
Store your muffins in an airtight container at room temperature. If making them as an on the go snack, wrap each muffin individually in plastic wrap.
Your muffins will last up to four days