This cherry pie recipe uses canned cherry pie filling for when you are short on time. It elevates the flavor of premade filling and perfect for serving any time of year.
If you've ever had a pie made with premade canned filling and were disappointed by the flavor, then this is the recipe for you.
With a few simple additions, you can improve the flavor of canned cherry pie. On top of that, you can use a premade or homemade crust for this pie.
Make sure to bookmark or pin this recipe so you can find it the next time you want to make a canned cherry filling pie.
How to Make a Better Tasting Cherry Pie when Using Canned Cherry Pie Filling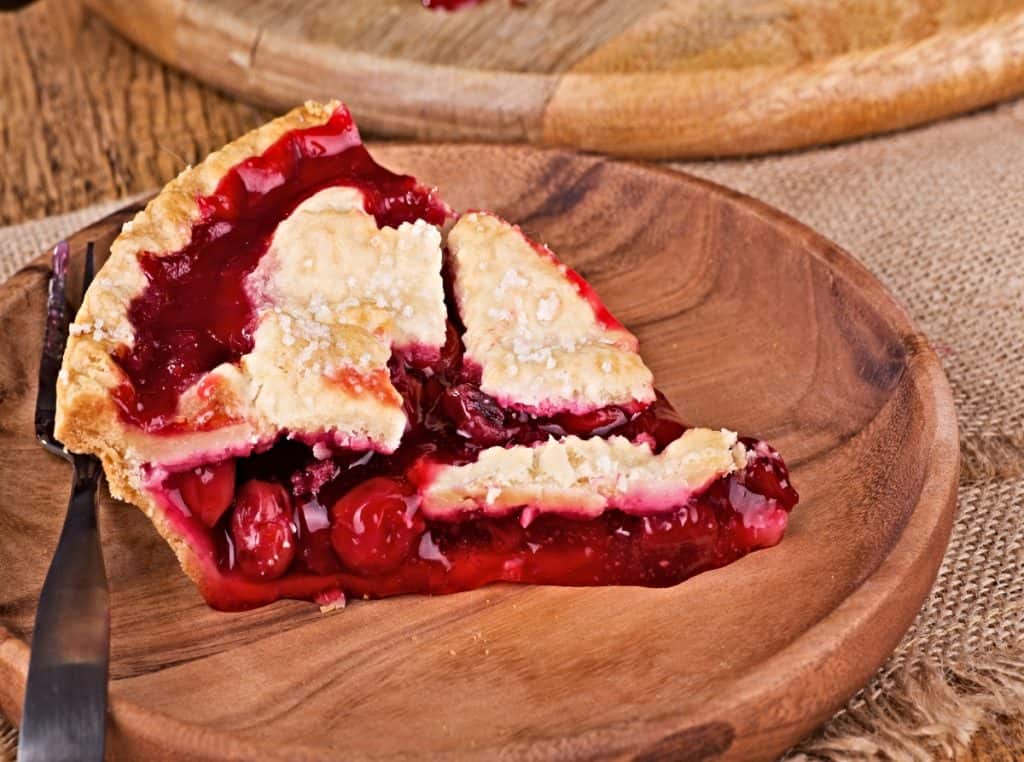 This recipe is quick and easy to make. It brings together the convenience of canned pie filling, with a flavor similar to a homemade cherry pie.
Let's be clear though. When baking completely from scratch, you have much more control over the final flavor of your pie.
So, by using a canned pie filling, we have limits to how much we can elevate the flavor. That means if we use a canned filling, there will be some trade off in flavor.
But with this recipe, you get a flavor much closer to homemade than you would using canned filling as is.
The real benefit of this recipe is how quick it is to make. Prep time is just a few minutes and the only equipment you need is a pie pan and a mixing bowl.
Save this recipe for later: Old fashioned cherry pie
Cherry Pie using Canned Filling Recipe Ingredients
This is an affordable pie, and only calls for a handful of common ingredients.
Ingredient List
Canned Cherry Pie Filling
Granulated Sugar
Lemon Juice
Lemon Zest
Butter
Pie Crust
Cherry Filling: I've used a number of different brands over the years and have had good results with all of them. So, you can go with Comstock, Lucky Leaf, or store brand for your pie.
Sugar: While your filling already has sugar added, I've found increasing it just a small amount, when paired with an acid, produces a much better flavor.
Lemon Juice and Lemon Zest: This provides our filling with acidity which will bring out all those wonderful flavors in our pie. This is the secret to improving the flavor of canned pie filling.
Butter: You will simply cut up a couple tablespoons of butter and place them evenly on top of your filling before placing your top crust on your pie. This will give our crust more flavor while helping it stay moist.
Crust: Since you are likely making this recipe because you're crunched on time. In that case, you will want to go with a premade crust. The flavor works and it will save you some time in the kitchen. But you can absolutely use a homemade pie crust if you have the time to prepare it. Simply make your crust before moving on to this recipe.
Another great recipe: Cherry berry pie
Easy to Follow Instructions
Make sure to gather your ingredients and equipment before getting started. This is a super quick recipe to prepare, so it's a great last-minute dessert.
Step 1: Preheat oven to 425 degrees. Line pie pan with one pie crust.
Step 2: In mixing bowl combine your cherry pie filling, granulated sugar, lemon juice, and lemon zest. Mix well.
Step 3: Break butter up and sprinkle evenly on top of pie filling.
Step 4: Place top crust on pie and pinch together the edges. Cut at least four slits in your top crust.
Step 5: Bake in preheated oven for 10 minutes.
Step 6: Reduce oven temperature to 350 degrees and continue to bake for 30 more minutes.
Step 7: Your pie is done baking when the crust is golden brown, and your filling is bubbly.
Step 8: Cool your pie on a wire rack. Serve and enjoy!
Cherry Pie (With Cherry Pie Filling)
Simple and quick cherry pie recipe. Perfect for those looking to make canned filling taste better.
Ingredients
24

oz

Canned Cherry Pie Filling

1

Tbs

Lemon Juice

¼

Cup

Granulated Sugar

½

tsp

Lemon Zest

optional

2

Tbs

Butter
Instructions
Line pie pan with one crust and preheat oven to 425 degrees.

Mix together your pie filling, sugar, lemon juice, and lemon zest.

Dot top of filling with butter.

Add top crust and pinch together edges. Cut slits into top crust.

Bake for 10 minutes. Reduce temperature to 350 degrees.

Continue baking for 30 minutes. Your pie is done baking when crust is golden brown.

Cool pie before serving. Enjoy!
Nutrition