Smooth and creamy chocolate frosting using chocolate chips! This rich and tasty frosting is super easy to make and only needs a handful of simple ingredients. Perfect for topping any of your favorite desserts like cupcakes, cookies, brownies, and homemade cake.
This recipe brings together the sweetness of powdered sugar and the creaminess of melted chocolate chips for one of my favorite chocolate frostings.
It's a great last minutes recipe when you need a great flavor and texture. It works wonderfully well topping any type of dessert. I've even used it to top waffles and crepes!
Once you've tasted it, and seen how easy it is to make, I think it will be one of your new favorite frosting recipes!
Make sure to bookmark or pin this recipe so you can find it the next time you need a tasty and easy frosting.
When frosting a multi layer cake, add a bit of frosting in the center of your serving platter before starting. This will act as an anchor for your cake to keep it from sliding around while you frost it.

Frosting Tip
How to Make Homemade Frosting using Chocolate Chips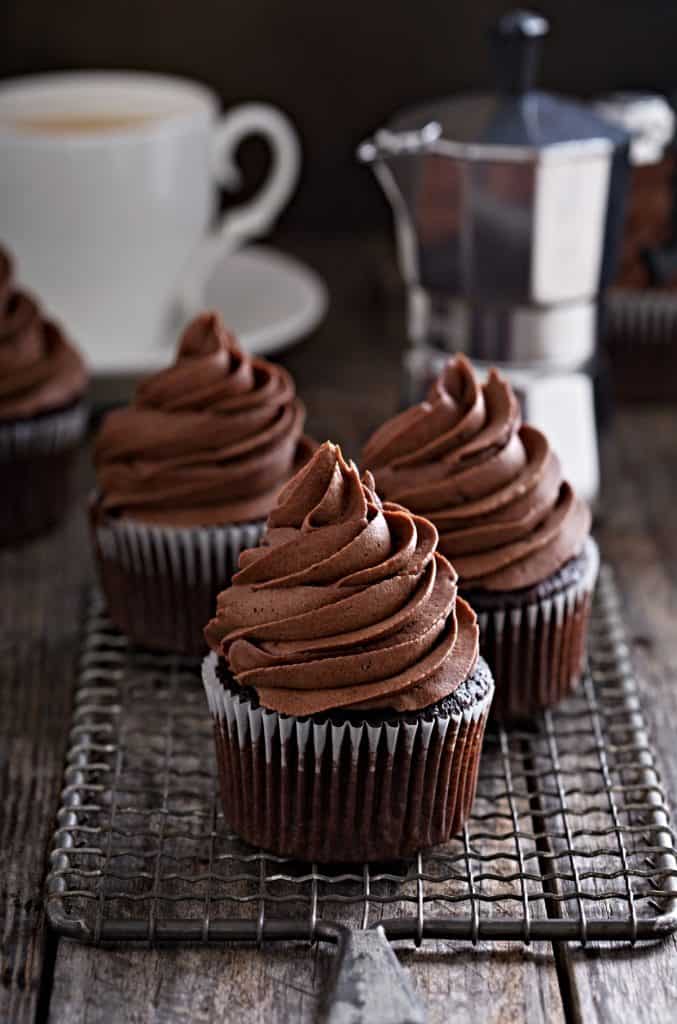 With just a saucepan and mixer you can make this delicious chocolate chip frosting. It's super easy to make and you'll be done in less than ten minutes.
I like to start making my frosting just before my dessert has cooled. This allows me to save a little time and not have to store my frosting in the fridge.
This recipe yields enough frosting for the following recipe sizes. Of course, that does depend on how thick you like to layer your frosting. If you need more, simply double the recipe without any other changes.
13″x9″ sheet cake
2 layer 9″ cake
3 Layer 8″ cake
12 cupcakes
24 cookies
Batch of brownies
Pin this recipe for later: Sour cream chocolate chip cake
Ingredients You Need
It's no secret I love baking from scratch, but that doesn't mean I don't equally love a simple and quick recipe.
And this frosting fits the bill! Just a handful of simple ingredients is all you're going to need. That makes this an affordable frosting too.
Once you've tried it, you won't be going back to a store bought frosting ever again.
Ingredients List
Semi-Sweet Chocolate Chips
Powdered Sugar
Butter
Evaporated Milk
Salt
Chocolate Chips: I've found chocolate chips provide the perfect amount of sweetness. I've used milk chocolate and even white chocolate chips for this recipe, and it produces great results, but you just can't beat semi-sweet! If you like an extra sweet frosting, you can go with milk chocolate, or just reduce your powdered sugar by a half cup for a similar sweetness level. I've used Toll House and store brand, and both produce great results.
Powdered Sugar: This makes the bulk of the volume of our frosting. It produces a great, classic frosting flavor and texture and I've found 3 cups to be just the right amount. If you want a less sweet frosting, reduce the powdered sugar used by a half a cup. This will produce a smaller batch though.
Butter: This aids in binding our other ingredients but primarily adds butterfat. And that is key for achieving a great texture and flavor. I don't recommend oil but you could use margarine in a pinch.
Evaporated Milk: Evaporated milk is our primary binder but it also adds to our creamy texture and flavor thanks to it's butterfat content. While I don't recommend it, you can substitute whole milk if you are all out of evaporated milk.
Always cool your cake completely before frosting. A warm cake will crumble apart when frosted. You can even freeze your cake before frosting, which is what most professional cake bakers do.

Frosting Tip
Try this tasty recipe: Chocolate pudding frosting
Easy Recipe Instructions
This recipe is super quick, just minutes in fact, with melting your chocolate chips being the majority of the time.
While you can make your frosting ahead of time, it's so quick I prefer to whip it together just before frosting my dessert.
If you do make it ahead of time, simply keep it in a covered container in your refrigerator until your ready to start frosting.
Great flavor recipe: Chocolate cherry frosting
Step 1: Bring your butter, milk, and salt to a boil while stirring.
Step 2: Remove from heat and stir in all your chocolate chips.
Step 3: Mix in your powdered sugar.
Step 4: Frost your dessert and enjoy!
You can thin your frosting by adding a teaspoon of evaporated milk (or regular milk) at a time until desired consistency is reached. For a thicker frosting, simply add a tablespoon of powdered sugar at a time until it's as thick as you prefer.

Frosting Tip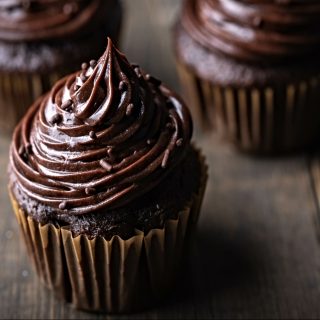 Simple Chocolate Chip Frosting
Rich and creamy frosting that's perfect for topping any of your favorite desserts. I've used it for everything from cakes and cupcakes, to waffles and crepes.
Ingredients
6

oz

Semi-Sweet Chocolate Chips

3

Cups

Powdered Sugar

⅔

Cup

Evaporated Milk

⅓

Cup

Unsalted Butter

1

Pinch

Salt

omit if using salted butter
Instructions
Add your milk, butter, and salt to your saucepan. Stir constantly while bring your mixture to a boil. As soon as it reaches a boil, remove from heat.

Add chocolate chips and stir until smooth and creamy.

Gradually add your powdered sugar while mixing until desired consistency is achieved.

Frost your dessert and enjoy!
Nutrition
Liv's Chocolate Chip Frosting Recipe Notes
This recipe yields enough frosting for a 13″x9″ sheet cake, a 2 layer 9″ cake, 2 or 3 layer 8″ cake, a sheet of brownies, 24 cookies, or 12 cupcakes.
I recommend going with semi-sweet chocolate chips, but you can use a different type if you prefer. Other options include white chocolate chips and milk chocolate chips.
This frosting can also be used as a sweet topping for waffles, pancakes, or crepes.
Store any leftover frosting, sealed in your refrigerator for up to two days.