Yes you can make chocolate ganache without heavy cream! And this easy recipe will show you how to make a creamy delicious ganache with no whipping cream needed.
I make a lot of ganache in my various desserts and I love my classic ganache recipe. And I wish I could say I've never run out of heavy cream when I needed it.
But I have definitely forgot to grab some when grocery shopping.
Luckily you can still make a great ganache without the cream.
Making Ganache Without the Cream
So technically, all ganache is made from chocolate and heavy cream. But you can still make a great tasting chocolate sauce that tastes just like ganache with a heavy cream substitute.
You will still use your chocolate just the same as a traditional recipe but instead of heavy cream you will use either whole milk or sweetened condensed milk along with butter.
And when you get these ingredients together you have the perfect chocolate ganache substitute.
What I Use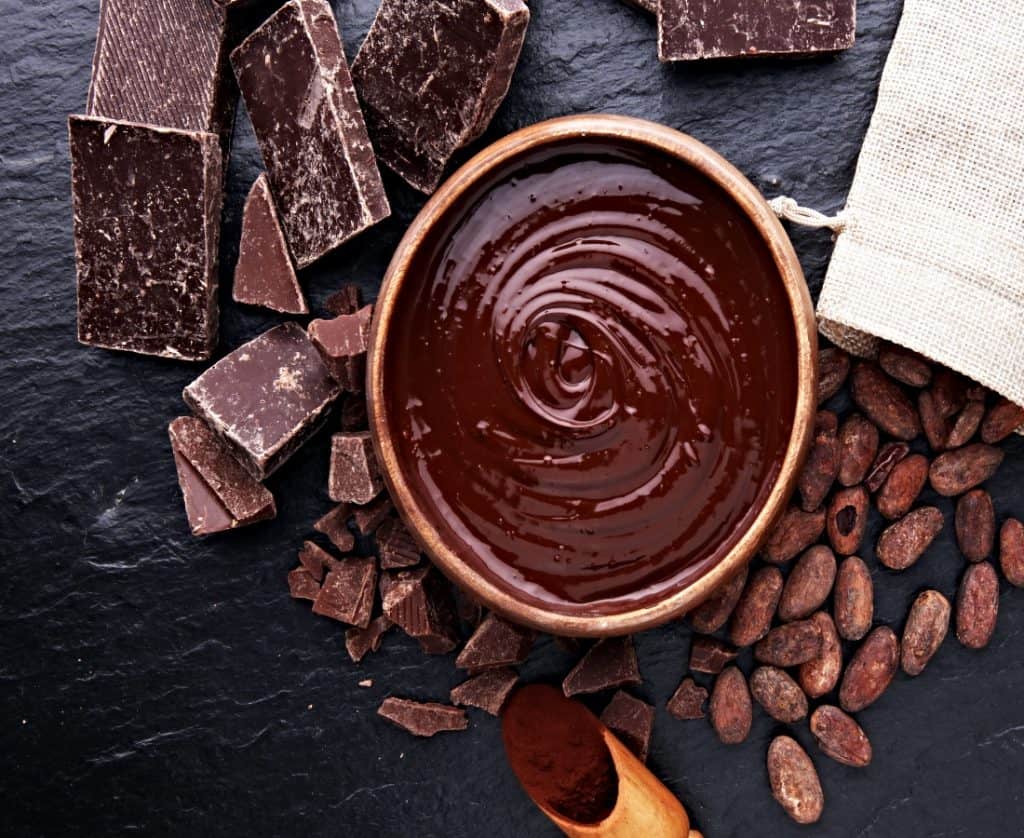 I use a number of different types of chocolate and it depends largely on my mood and what I currently have on hand. You can use any of the following chocolate to make your ganache.
Bittersweet
Milk Chocolate
Semi-sweet
White Chocolate
For your heavy cream substitute you can go with either whole fat milk or sweetened condensed milk.
No matter which one you choose, you will also need some unsalted butter. And that's all there is to making this simple recipe.
How To Make Chocolate Ganache With Milk or Sweetened Condensed Milk
The difference between heavy cream and milk (and sweetened condensed milk) is that cream has a higher amount of butterfat.
That means we can create cream by increasing the butterfat content of our milk. So we will combine butter with our milk or condensed milk.
Ingredients
2 Cups Chopped Chocolate
1 1/3 Cups Whole Milk or Sweetened Condensed Milk
2/3 Cup Unsalted Butter
Start by chopping your chocolate into tiny bits. You must chop them well in order for your chocolate to melt entirely.
Tip: Use the best quality chocolate you can afford. This is one the easiest ways to make your ganache truly delicious.
Put your chocolate in a bowl that can take heat and set it aside.
Add your butter and milk into a medium sauce pan and bring it to medium low heat. Stir until your butter is completely melted.
Turn the heat up to medium high and bring it to a light boil. Remove from heat and immediately pour into your chocolate.
Let it stand for two minutes and then stir until creamy.
Cover and place in the refrigerator until ready to use.
Your ganache will set as it chills. If you desire a softer ganache simply let it stand at room temperature for about five minutes and it will soften.
Chocolate Ganache Without Heavy Cream Recipe
Substitute milk or sweetened condensed milk (with butter) for this creamy ganache. Great as a frosting or filling.
Ingredients
2

Cups

Chocolate

Finely Chopped

1⅓

Cups

Whole Milk or Sweetened Condensed Milk

⅔

Cup

Unsalted Butter
Instructions
Put finely chopped chocolate in heat safe bowl. Set aside.

Add butter and milk to saucepan and bring to medium heat. Stir until butter is melted.

Turn up heat to medium high. Bring mixture to a light boil and immediately remove and pour over chocolate.

Let stand for two minutes.

Chill in refrigerator until ready to use.
Notes
Ganache can be stored for up to five days in your refrigerator.
If softer ganache is desired, set at room temperature for about five minutes before using.
Nutrition
Frequently Asked Questions
Do I have to use dark chocolate to make ganache?
Nope, you can use any type of chocolate you wish. But keep in mind that quality is the most important factor. Always use the highest quality chocolate you can find and afford.
But dark chocolate works, semi-sweet, milk chocolate, and even white chocolate can be used.
Does chocolate ganache made with milk work as a frosting?
Yes it does. This recipe is perfect as a frosting or even chocolate filling.
What are other uses for this chocolate ganache?
I use this, and similar, recipes for all sorts of tasty treats. Of course you can use it with cakes and cupcakes but it is great on so much more.
I top donuts with this recipe and thin it a bit and it goes great on tarts.
My youngest son loves the little sugar sandwich cookies I make with it. And my oldest uses it as a dipping sauce for all sorts of treats.