Rich and chocolatey pudding frosting recipe perfect for topping cakes, cupcakes, cookies, and brownies. This recipe is incredibly easy to make and only takes three ingredients!
I love the simplicity of this pudding frosting, but the flavor is amazing too! It only takes minutes to make, but it does need to chill to set, so I usually make the night before or morning if serving that night.
This recipe has been in my family at least since I was a little girl. And I remember making it with my mother for frosting cupcakes in particular. And it's just as delicious today as it was back then.
If you like a smooth, sweet, chocolate frosting you're going to love this recipe too!
Make sure to bookmark or pin this recipe so you have it the next time you need a simple chocolate frosting.
Try this recipe: Chocolate marshmallow frosting
How to Make Chocolate Frosting using Pudding Mix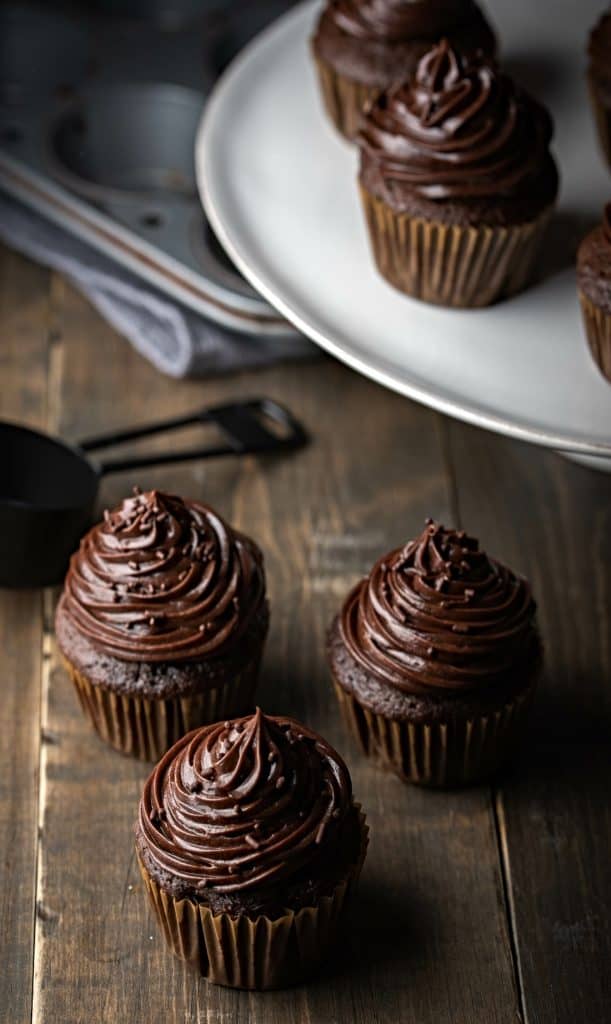 This recipe is super simple and quick to make. In fact, you'll have it prepared in about the time it takes to make instant pudding.
And that's because all you have to do, is follow the instructions on your pudding box and whip your cream.
And it produces a rich and flavorful frosting that goes great with just about any type of dessert you could want to frost.
Pin this recipe for later: Chocolate rum frosting
Ingredients for Pudding Frosting
With just three ingredients you can make this wonderful frosting! It's one of the easiest recipes I actually enjoy. Many "simple" frosting recipes out there just don't offer the flavor I'm looking for, but that's not the case with this one.
Ingredients List
Chocolate Pudding Mix
Milk
Heavy Cream
Chocolate Pudding Mix: Any brand will do, I've used Jell-O as well as store brand and it's turned out great every time. Go with a 3.75 oz box.
Milk: I prefer whole milk as the butterfat content helps with the rich texture. You can get away with 2% but I wouldn't go with a lower fat milk than that. You're going to use the amount of milk your pudding box calls for.
Heavy Cream: This is how we get that fluffy and creamy texture. You're going to whip your heavy cream to stiff peaks before adding it to your pudding.
Great Recipe: Chocolate cupcakes
Simple Recipe Instructions
It takes about five minutes to make your pudding, and you can whip your cream while it's cooling. So it should take just about 10-15 minutes including time for your pudding to cool.
From there, you're going to want to chill your frosting for it to set. I like to chill it overnight, but as long as you give it at least two hours you should be good to go.
Step 1: Prepare your pudding and allow it to cool.
Step 2: Whip your heavy cream.
Step 3: Combine your heavy cream and pudding.
Step 4: Chill until your frosting sets.
Step 5: Frost your dessert and enjoy!
Use your frosting for this recipe: Moist chocolate cake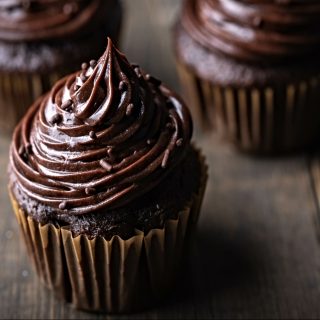 Simple Chocolate Pudding Frosting
Rich and flavorful, this frosting is perfect for frosting cupcakes, cakes, brownies, cookies, and more.
Equipment
1 Saucepan

1 Mixer

1 Mixing Bowl
Ingredients
3¾

oz

Chocolate Pudding Mix

Milk

amount pudding mix calls for

1

Cup

Heavy Cream

whipped to stiff peaks
Instructions
Prepare your pudding according to instructions on box

Whip heavy cream until stiff peaks form

Fold whipped cream into cooled pudding until well combined

Chill in refrigerator overnight

Frost your dessert and enjoy!
Nutrition