All I can say about these coconut filled chocolate mound cookies is OMG!
They are so unbelievably delicious and are once of my all time favorite cookie recipes.
The filling is perfect for the coconut lover and mixes so well with the chocolate. I love having these for dessert with a cup of decaf coffee. It's mouth watering good!
I also make these for parties at home. They are quick to make for a filled cookie and a hit with everyone.
How To Make Coconut Filled Chocolate Mound Cookies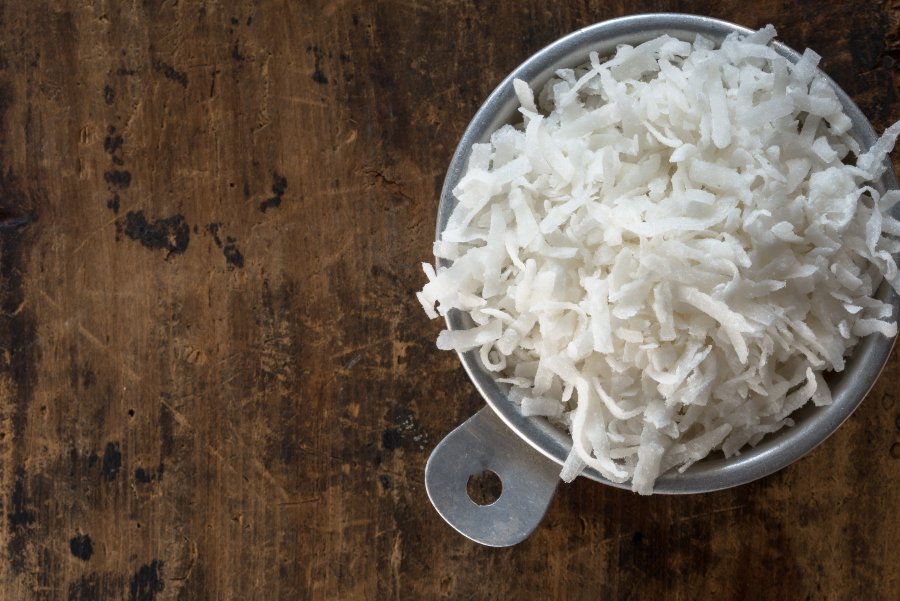 These cookies make a pretty decent mess in the kitchen but the payoff is definitely worth it. These cookies are another recipe I learned from my aunt and she somehow knows how to make them minus the mess.
Oh well, I can live with that!
Cookie Ingredients
1 1/4 Cup Flour
1/2 tsp. Baking Soda
7 Tbs. Butter
1/3 Cup Cocoa
3/4 Cup Sugar
1 tsp. Vanilla Extract
1 Large Egg
1/3 tsp Salt
1 tsp. Rum Extract
Coconut Filling Ingredients
3 Tbs. Sweetened Condensed Milk
1/2 Cup Shredded Unsweetened Coconut
First prepare your filling by combining condensed milk with coconut in a small bowl. Place in refrigerator.
Next preheat your oven to 375 degrees.
In a large mixing bowl combine cocoa, baking soda, flour and salt and stir together. In a separate mixing bowl combine sugar and butter and mix until blended.
Add rum extract, vanilla extract, and your egg and beat together.
Now gradually mix in your flour mixture. Once well blended place in your refrigerator and cool for about an hour.
Once chilled take out your cookie dough. Roll balls by hand that are about one inch in diameter.
Place on wax paper and flatten each ball with the palm of your hand. Add a teaspoon of coconut filling to each flattened cookie.
By hand, wrap the cookie dough around the coconut filling and pinch each cookie so it is sealed.
Place each filled cookie on parchment paper covered cookie sheet with two inches between.
Bake for about eight to ten minutes. Cookies will be lightly browned on edges and they are ready to be removed from oven.
Cool completely on cookie racks. I like to sprinkle any remaining coconut on the top then serve and enjoy!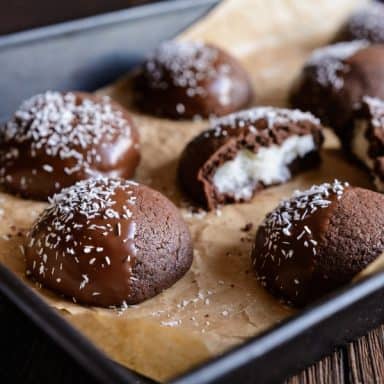 Coconut Filled Chocolate Cookie Mounds
Equipment
Mixer

Mixing Bowls

Parchment Paper

Large Cookie Sheet
Ingredients
Cookie
1¼

Cup

Flour

½

tsp

Baking Soda

⅓

Cup

Cocoa

7

Tbs

Butter

¾

Cup

Sugar

1

Large

Egg

1

tsp

Vanilla Extract

1

tsp

Rum Extract
Coconut Filling
½

Cup

Unsweetened Shredded Coconut

3

Tbs

Sweetened Condensed Milk
Instructions
Coconut Filling
Combine coconut and condensed milk in a bowl and stir. Place in refrigerator while preparing cookie dough.
Cookies
Preheat oven to 375 degrees.

Combine flour, cocoa, salt and baking soda in a bowl. Mix together and set aside.

Combine butter and sugar and mix until well blended.

Add vanilla extract, rum extract and egg and mix well.

Gradually blend in flour mixture until dough is creamy.

Chill cookie dough for one hour in refrigerator.

Hand roll one inch cookie dough balls and place on parchment paper covered cookie sheet.

Flatten each ball with the palm of your hand. Spoon in one teaspoon of coconut filling into the center of each flattened cookie.

Fold up the cookie dough around the coconut filling and pinch them closed. Coconut filling should not be leaking out of your cookie dough.

Cookies should be about two inches apart on cookie sheet.

Bake for eight to twelve minutes. Cookies are done when light brown on edges.

Remove from oven and completely cool on racks.
Nutrition
Conclusion
These coconut filled chocolate cookies have become an Easter favorite with my extended family but I love making them anytime of year. The coconut and chocolate goes so well together it's incredible.
They are also a favorite of my boys and they can really pack them away. I often make a double batch because they go so fast.
For more great cookies ideas check out these recipes