This simple crumb topping recipe produces a wonderful, old fashioned flavor, perfect for almost any type of pie. This five ingredients topping is particularly delicious on fruit pies.
If you are looking for a crumb topping for a homemade or store bought pie, this is the recipe for you.
It brings together the great flavors of brown sugar and cinnamon and a classic crumble topping texture. You can even stir in some crushed walnuts or pecans for a wonderful, earthy flavor that works with just about any pie.
Make sure to bookmark or pin this recipe so you can find the next time you want to make a homemade crumble top for your pie.
You can replace the butter with margarine. The flavor is excellent and it produces an excellent texture.

Tip
How to Make a Homemade Crumble Topping for Pie
If you're a fan of simple recipes, then you're going to love this crumble topping. Not only does it taste absolutely amazing, it's super quick and easy to make.
Prep time is just a few minutes and it can be made with a blender or mixer and mixing bowl. I do recommend a blender if you have one since it makes the process quicker.
This topping is a great way to elevate the flavor of a frozen, store bought pie. Simply pour it on top of your pie before following the recommended baking instructions on your box.

Pie Tip
Pin this tasty recipe for later: Peach crumble pie
Crumble Topping Ingredients
All you need are four common ingredients to make this recipe (five if using nuts). It's incredibly affordable, so make sure to save this recipe because you're going to want to use it again and again.
All-Purpose Flour
Brown Sugar
Ground Cinnamon
Butter
Walnuts or Pecans (optional)
Flour: All-purpose flour is the base for our crumble. I've find it to the best flour, but you can use cake flour in a pinch.
Brown Sugar: Light or dark brown sugar can be used. I usually use light, but when making a pie that pairs well with molasses, dark is an excellent choice. When measuring your brown sugar, make sure to pack it down firmly. If you don't pack your brown sugar, you will not add enough for your topping.
Cinnamon: This provides flavor to our topping. Cinnamon goes with just about any style of pie. If you are making a pie where you do not want cinnamon, it can be omitted or reduced.
Butter: Make sure your butter is cold. It's important for achieving a crumbly texture. Then simply cut it into half tablespoon sized cubes before mixing it in. You can use margarine instead of butter if desired.
Nuts: I always add chopped walnuts or pecans to my topping. The earthy flavor pairs so well with most type of pies. You can even use half pecans and half walnuts. If nuts just are not your thing, you can skip them.
Use this topping on this pie: Open top apple pie
Pie Topping Instructions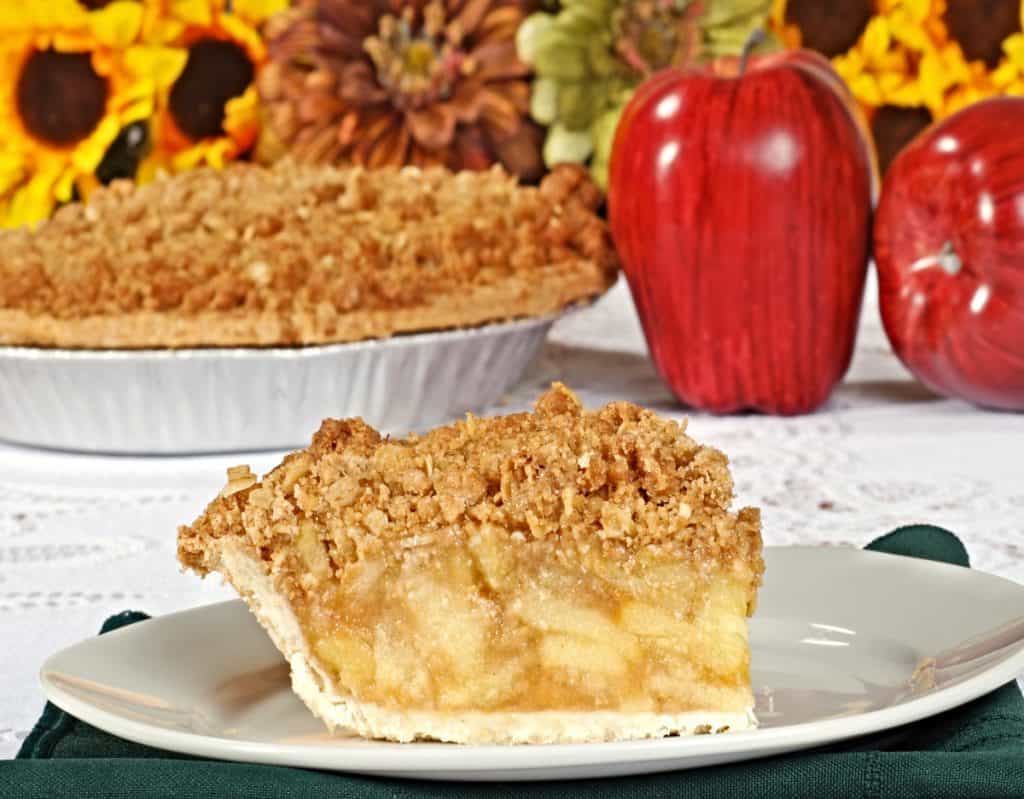 When it comes to homemade recipes, it doesn't get much easier than this. And that's the beauty of this recipe.
Quick and easy to make, but packed with tasty flavor.
Step 1: Add your all-purpose flour, brown sugar, ground cinnamon, and cubed butter to your blender.
Step 2: Process until it forms a crumbly texture.
Step 3: If adding nuts, transfer mixture to a bowl and stir in your crushed nuts by hand.
Step 4: Add on top of pie, and bake according to your pie recipe. Enjoy!
Easy Crumb Topping For Pie
This crumbly topping has a cozy, homestyle flavor ideal for just about any type of pie.
Equipment
1 Blender or Mixer and Mixing Bowl
Ingredients
½

Cup

All-Purpose Flour

¼

Cup

Brown Sugar

firmly packed

1

tsp

Ground Cinnamon

⅓

Cup

Butter

cold, cubed

½

Cup

Walnuts or Pecans

chopped
Instructions
Add all ingredients, except for your nuts, to blender.

Process just until mixture forms a crumbly texture.

Note: If adding nuts, transfer mixture to bowl and stir in nuts by hand.

Pour crumb topping on pie and bake according to your recipe's instructions.
Nutrition