Soft and fluffy cookie dough with no flour needed! This sweet and tasty recipe is perfect for eating by the spoonful and also makes an awesome dip or topping for cakes or cupcakes.
We bake a lot of cookies and my kids always want to eat some of the cookie dough but we don't allow them to eat dough with raw eggs or untreated flour.
But they still ask for it so this recipe is a dream come true! It's safe to eat this dough "raw" and it's super tasty!
If you've looked at other edible cookie dough recipes (even on this site) they usually call for flour but not everyone wants to heat treat their flour. So this simple recipe is perfect!
How To Make Cookie Dough Without Flour Or Eggs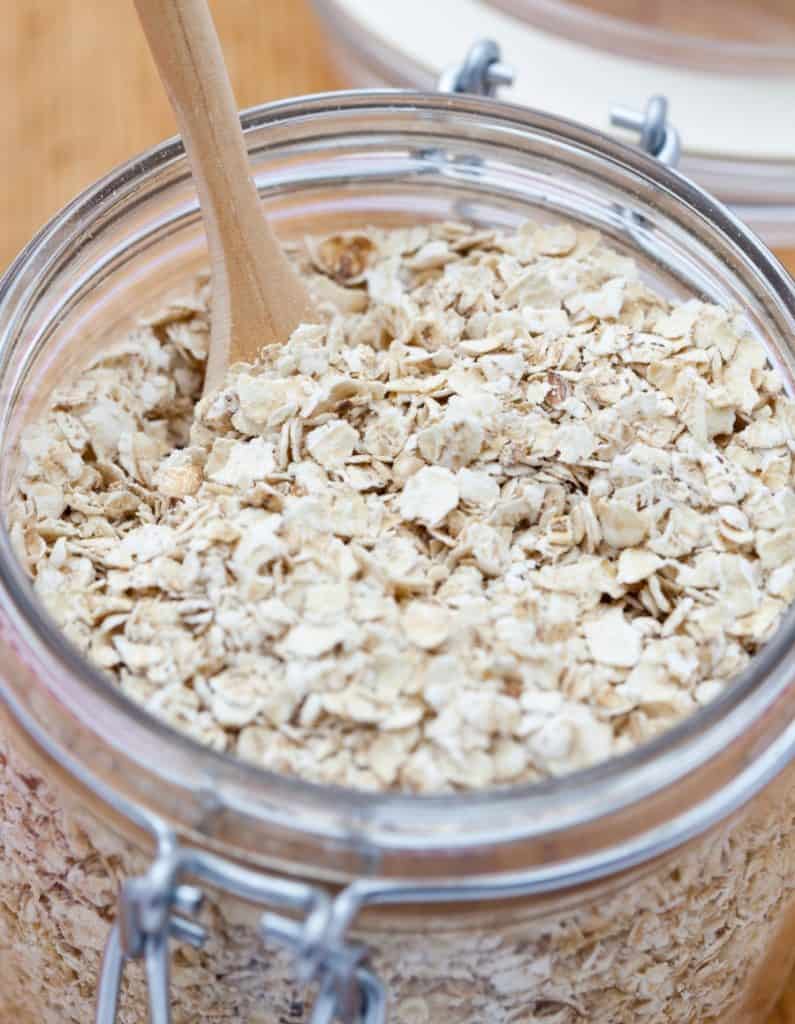 I've had a few friends ask me if you can make cookie dough without flour or eggs. I am always excited to tell them you can!
I've shared this recipe with a few friends and they absolutely love it. They enjoy the simple preparation and like the flavor even more.
And it's a huge hit in my home too. When we are craving some cookie dough this is the version we make the most.
Prep time is only about five minutes and it yields four servings. You will want to chill it but that's all it takes.
I use a mixer and mixing bowls which means there aren't many dishes to do after you're done.
Ingredients
1 Cup Chocolate Chips
3/4 Cup Soft Unsalted Butter
1/2 Cup Granulated Sugar
1 1/2 Cups Oats
1/4 Cup Brown Sugar
1 tsp. Pure Vanilla Extract
Dash Salt
Be sure to use pure vanilla extract as it provides so much more flavor than imitation. You can use either dark or light brown sugar.
Start by adding your oats to your blender or food processor. Process until they are ground up like flour.
In your mixing bowl add butter, brown sugar, and granulated sugar and mix until creamy.
Add in your pure vanilla extract and process until well combined. Pour in your oats and salt and continue mixing.
Now add your chocolate chips and stir until evenly distributed. Now pop your cookie dough in your refrigerator and chill for at least thirty minutes.
Simple Edible Cookie Dough Without Flour (Eggless)
Perfectly safe to eat by the spoonful or as a dessert dip or frosting.
Equipment
Blender or Food Processor

Mixing Bowl

Mixer
Ingredients
1

Cup

Chocolate Chips

¾

Cup

Unsalted Butter

Soft

½

Cup

Granulated Sugar

1½

Cups

Oats

¼

Cup

Brown Sugar

Light or Dark

1

tsp.

Pure Vanilla Extract

Dash

Salt
Instructions
Add oats to blender. Process until a flour consistency.

In mixing bowl add butter, brown sugar, and granulated sugar. Using mixer, mix until creamy.

Add oats and pure vanilla extract and mix until well combined.

Add chocolate chips and stir in.

Chill for at least a half an hour before serving.
Nutrition
FAQ
Is it safe to eat cookie dough without flour and egg?
Yes! This recipe is safe to eat without cooking.
Other edible cookie dough recipes are made using flour but flour can hold harmful bacteria when not heat treated. This recipe eliminates the need to heat treat your flour before making.
And since this recipe is not meant to be baked, there is no need for the eggs or flour.
Is the texture the same as traditional cookie dough?
This cookie dough has slightly grainier texture than traditional cookie dough. That is because we are creating oat flour which is not as smooth as regular flour.
The more fine you blend your oat flour, the smoother your cookie dough will be. So be sure it is well blended before moving on.
So how exactly do you make oat flour?
You can buy pre-made oat flour but it's so simple there's no reason not to make your own! Just blend or process your oats until they are a fine powder.
How do you store your cookie dough?
You should put any unused cookie dough in an airtight container and refrigerate. It will last for up to five days in your fridge.
Can you freeze edible cookie dough?
Yes you can. Just roll your dough into a log and place in a freezer safe baggie. Your dough will keep for up to three months in the freezer.