Classic cookie dough flavor without the milk! Simple and quick recipe perfect for quenching your cookie dough cravings. And there are no eggs!
This sweet and soft cookie dough is completely edible and you do not need any milk or eggs to make it.
It is perfect for eating by the spoonful after a long day or as a delicious dip for an afternoon snack. I will even use it as a topping for cupcake, donuts, and pancakes!
I love making this recipe with my boys. They really like edible cookie dough (we don't eat the dough for baking) and they enjoy helping with this simple and quick recipe.
How to make dairy free cookie dough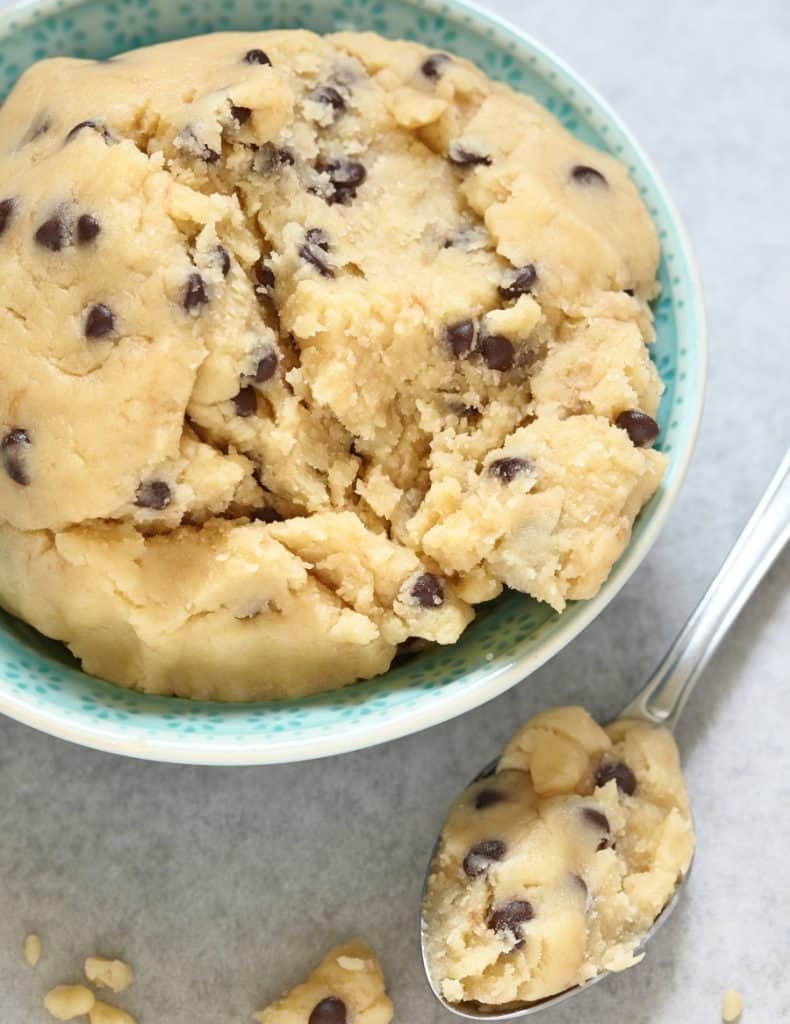 By skipping the eggs this dough can be eaten uncooked and it tastes just like traditional cookie dough with chocolate chips, even though there's no milk.
Prep time is only about five minutes and then just thirty minutes of chilling in the refrigerator. The yield is four servings and cleanup is easy!
Ingredients
1/2 Cup Dairy Free Chocolate Chips (can use regular if you are ok with some dairy)
1 Cup All-Purpose Flour (heat treated)
1/2 Cup Brown Sugar
1/2 Cup Melted Butter
Dash of Salt
1 tsp. Pure Vanilla Extract
2 Tbs. Granulated Sugar
Before beginning you will want heat treat your all-purpose flour to remove any impurities. This process is important as bacteria can be living in your flour. So to avoid potentially getting sick don't skip this step.
You can find out how to heat treat flour at the end of this article. But basically you will be microwaving your flour until it reaches 166 degrees.
Add your brown sugar, granulated sugar, and butter to a mixing bowl. Use a hand mixer on medium until well combined.
Add your flour, salt, and pure vanilla extract. Mix until creamy.
Stir in chocolate chips until evenly divided. Pop your cookie dough in the freezer and chill for at least a half an hour before serving.
Edible Cookie Dough Without Milk
Sweet and fluffy edible cookie dough perfect for snacking or topping desserts.
Equipment
Mixer

Microwave Safe Bowl

Mixing Bowl
Ingredients
½

Cup

Dairy Free Chocolate Chips

1

Cup

All-Purpose Flour

Heat treated

½

Cup

Brown Sugar

½

Cup

Butter

Melted

Dash

Salt

1

tsp.

Pure Vanilla Extract

2

Tbs.

Granulated Sugar
Instructions
Add brown sugar, granulated sugar, and butter to a mixing bowl. Use hand mixer to blend completely.

Add flour, salt, and pure vanilla extract. Mix until smooth and creamy.

Stir in chocolate chips until evenly distributed.

Chill in refrigerator at least 30 minutes.
Nutrition
How to heat treat flour
The easiest method to heat treat flour is by putting it a microwave safe bowl and microwaving it one minutes at a time until your flour reaches 166 degrees.
Be cautious not to overheat your flour.
You can also heat treat your flour in the oven by setting it to 350 degrees baking it for five minutes. Put your flour in a single layer on a baking sheet.
Let your flour cool before continuing with your cookie dough recipe.
FAQ
Can I use anything other than chocolate chips?
Yes! This cookie dough base works with many flavors.
Caramel chips
Reese's
Fruit
Raisins
Crushed up chocolate bars
M&M's
Sprinkles
Mint chocolate chips
Peanut butter chips
Rolos
Funfetti
Toffee Chips
Mocha Chips
How long does this cookie dough last?
You can store this cookie dough for up to five days in the refrigerator. Store in an airtight container.
Can I cook this dough?
I wouldn't recommend it. This dough doesn't have the ingredients that make a good baked cookie.
It's best by the spoonful, as a dip, or a dessert topping.
Can I mix this dough by hand?
No. You need a hand or stand mixer. You can also mix in a blender or food processor. Just be sure to hand stir in your chocolate chips.