If you are looking for flavor pairings that go well with vanilla you came to the right place. In this article you will find inspiration for your next vanilla flavored recipe.
Whether looking for spices to add to a vanilla beverage or fruits that go with vanilla, we have every flavor combination you could ask for.
To make it easier we've broken it down into categories so just read on for all the flavors that go well with vanilla.
Top Vanilla Flavor Combinations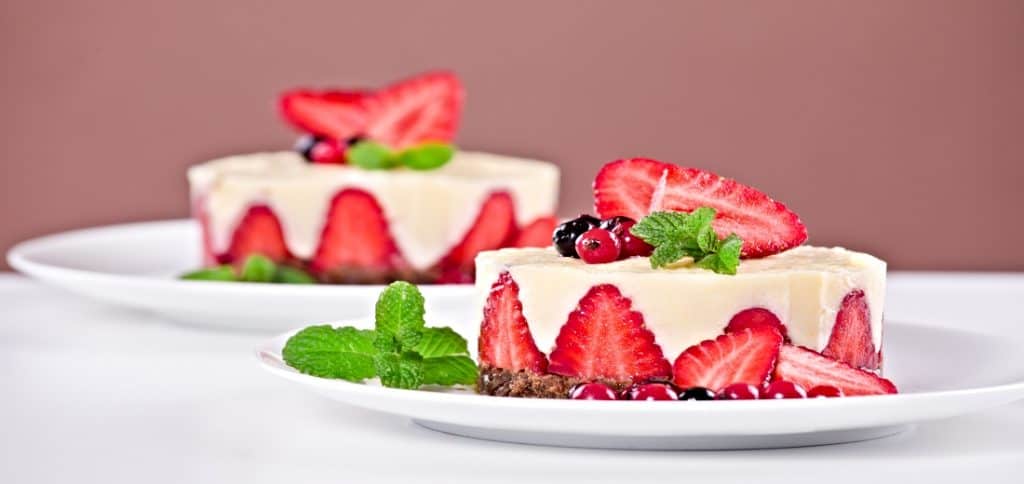 No matter what you are making you will find some great vanilla pairings. From ice cream combinations, to cake, beverages, pudding, and spices the combination options are nearly endless.
You can pick and choose any number of the following ingredients to add to your vanilla recipe. Get creative and don't forget to let us know your favorite vanilla flavor pairings.
Related: Does Vanilla Extract Go Bad
Fruit that Goes with Vanilla
Vanilla tastes amazing with fruit! There are some truly wonderful combinations you can try no matter what type of vanilla recipe you are making. Try mixing and matching different fruits from this list.
You can use these fruits whole, mashed, pureed and even frozen.
Related: Vanilla Bean Substitutes
Apple
Apricot
Banana
Blackberries
Blueberries
Cherries
Coconut
Cranberries
Figs
Orange (blood oranges are a personal favorite)
Peaches
Pears
Pineapple
Strawberries
Raspberries
Kiwi
Spices that go Well with Vanilla
Vanilla's flavor can really shine when paired with the spices below. These spices provide a complex and delicious flavor pairing that is ideal for adding other ingredients from the other lists.
Experiment with different combinations and as always, add spices to taste.
Related Recipe: No Churn Vanilla Fudge Ice Cream
Anise
Cardamon
Cinnamon
Nutmeg
Clove
Nuts that go Well with Vanilla
Vanilla is perfect for adding the earthy flavor of nuts. Whether making pudding, vanilla cake, or just about any vanilla based recipe the following nuts offer a tasty flavor pairing that is sure to impress.
Related Recipe: No Churn Vanilla Ice Cream without Heavy Cream
Chestnuts
Hazelnuts
Peanut
Almonds
Walnuts
Pecans
Filberts
Other Flavors that Pair with Vanilla
If all those great options aren't enough, here are some more interesting things that work amazing when combined with vanilla.
Some are classics and a few you would probably not have considered but they will work great with vanilla.
Chocolate
Coffee
Ginger
Egg
Rhubarb
Ricotta Cheese
Mint
Tomato
Caramel
Toffee
Nutella