Simple and delicious vanilla buttercream frosting perfect for cakes, cupcakes and more! Soft and creamy with an airy texture almost like a whipped cake frosting.
This is one of my favorite all around ermine frosting recipes and it's perfect for when you don't have, or don't want to use, powdered sugar.
And all you have to do is substitute granulated sugar for the powdered sugar and it works beautifully.
And the texture is still smooth and creamy, which grittiness is the main problem with frostings sans powdered sugar. It offers a sweet, but not too sweet, flavor to compliment the excellent texture.
How To Make Frosting Without Powdered Sugar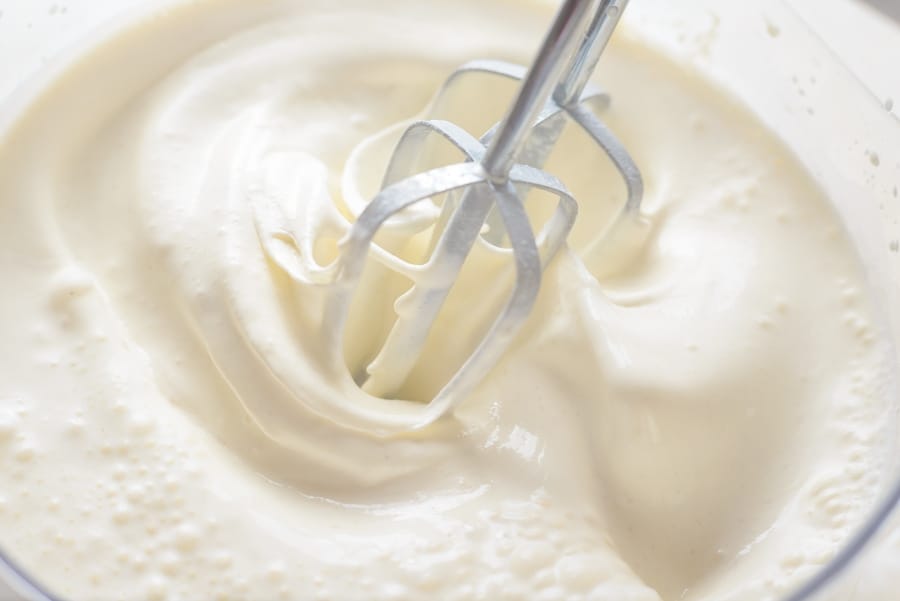 It's easily the best frosting without powdered sugar I've ever had and I hop you love it too! This recipe yields enough frosting to handle two dozen cupcakes or a two layer cake.
Ingredients
1 1/2 Cups Granulated Sugar
1/2 Cup All-Purpose Flour
1 1/2 Cups Whole Milk
1 1/2 Cups Salted Butter
1 1/2 Tbs. Pure Vanilla Extract
Pinch of Salt
Add your flour and milk to a saucepan. Whisk it by hand until well combined. Bring to medium low heat and stir until it thickens.
Remove saucepan from heat and stir in your pure vanilla extract.
Allow the contents to cool completely.
In a different mixing bowl, add your sugar, salt, and room temp butter and mix until fluffy.
Once your milk mixture is completely cooled to room temperature add it to your butter mixture and beat with your hand mixer until it is light and fluffy.
Frosting Without Powdered Sugar FAQ
Does my frosting need to be refrigerated?
Any unused frosting should be refrigerated. It can be chilled for up to one week.
What type of milk should I use?
Any fat content milk will work, but I've found whole milk to offer the best consistency and flavor.
What type of salt should I use?
You can use either salted or unsalted but I've had the best results with salted butter.
Do I have to use pure vanilla extract?
I highly recommend pure over imitation vanilla extract. You can also use almond extract for this frosting if you wish.
How long do I cook the milk?
Undercooking your milk will result in less than ideal frosting. Make sure to cook until it is a thick paste like consistency.
Important: Make sure milk cools all the way down to room temperature or your frosting will be runny.
Will my frosting be gritty?
Not if you use this recipe. Your frosting will be smooth and creamy.
Can I use food coloring?
Yes you can, it will not change the consistency of your frosting.
Frosting Without Powdered Sugar
Smooth and creamy frosting perfect for cakes and cupcakes.
Ingredients
1½

Cups

Granulated Sugar

½

Cup

All-Purpose Flour

1½

Cups

Whole Milk

1½

Cups

Salted Butter

1½

Tbs.

Pure Vanilla Extract

Pinch

Salt
Instructions
Add milk and all purpose flour to a saucepan and bring to medium low heat while stirring constantly. Stir until it is a thick paste like consistency.

Remove from heat and allow to cool completely to room temperature.

Once cool, add your vanilla extract and stir it in.

In a separate bowl, with hand mixer mix room temperature butter, salt, and sugar until well blended and light and fluffy.

Add your cooled milk mixture and blend until it is a whipped consistency.
Nutrition