If you're looking for the best graham cracker pie crust recipes, then you've come to the right place. You will find my favorite pie recipes that can be made using a premade or homemade graham cracker crust.
I love the flavor and simplicity of making pies with a graham cracker crust. There are so many great recipes options which can be overwhelming. Lucky for you, I've tested hundreds of recipes over the years and will share the best of the best with you.
Best Graham Cracker Pie Crust Recipes
You will find options perfect for the holidays as well as simple summer, no bake pie recipes. So no matter what type of graham cracker crust pie you are in the mood for, you will find what you need right here.
Cherry Cheese Pie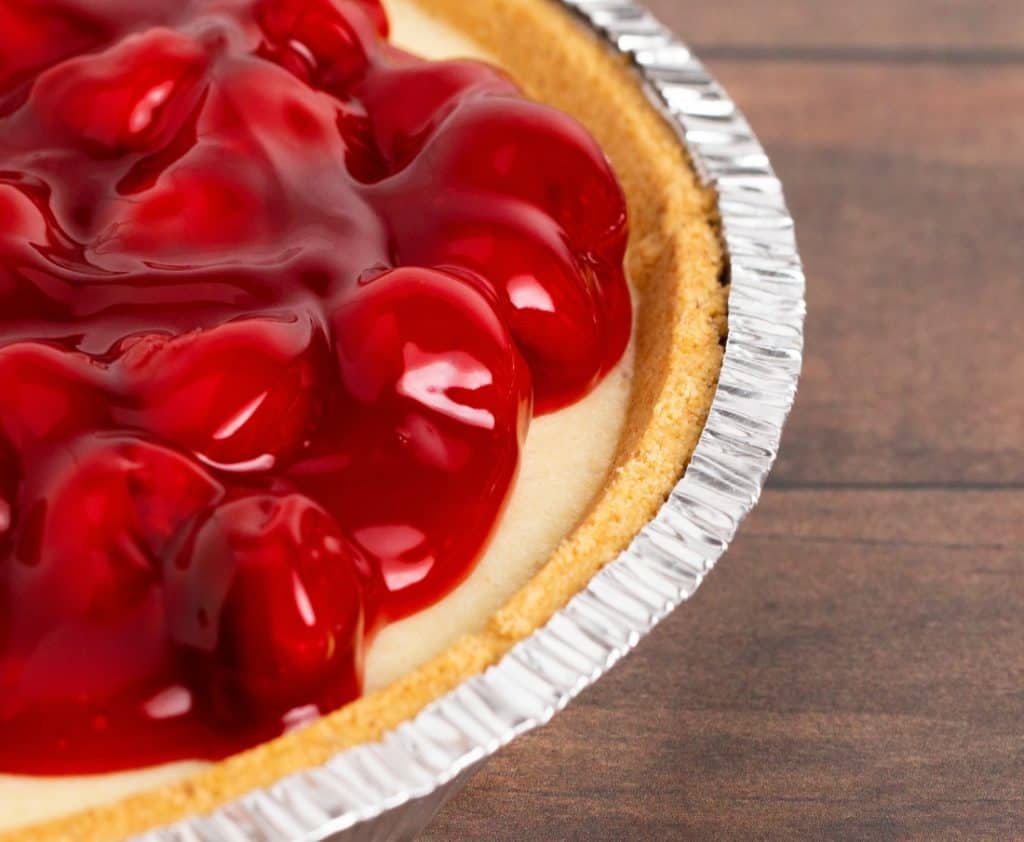 Maybe my most popular graham cracker crust pie recipe is this cherry cheese pie. Hundreds of readers have messaged me letting me know it is one of their all-time favorite pies.
And I have a feeling you will like it too!
It's incredibly easy to make and is perfect for serving any time of year. All you need are four ingredients and a graham cracker crust!
Peach Pie
Looking for a traditional fruit pie you can make with your graham cracker crust? This no bake peach pie is another Treat Dreams reader favorite.
It brings together the delicious flavor of fresh peaches with just a few common ingredients. It's super easy to make and one of my family's favorites. I make this pie year-round for a special family dessert.
Creamy Peanut Butter Pie
When you combine creamy peanut butter, cream cheese, and a graham cracker crust, you get a magical flavor!
This pie is rich and smooth, and easily one of my all-time favorite peanut butter pie recipes. It's incredibly easy to make and no baking required!
Blueberry Pie
Do you like fresh blueberries? Then you are going to love this recipe. It brings together just a handful of simple ingredients, but the flavor is incredible.
This is a great summer pie to serve at parties and get togethers. It's a crowd pleaser, so be prepared to handle a lot of recipe requests.
Dutch Apple Pie
This wonderfully simple recipe brings together a classic Dutch apple pie filling with a graham cracker crust. And the results are so tasty!
This is a great twist on the traditional apple pie recipes out there, and it's a great alternative for those who don't like a traditional pie crust with their apple pie.
Banana Cream Pie
This is one of my husband's favorite pies, it's also another popular one with Treat Dreams readers. And if you are a fan of banana, I think you will agree.
This simple recipe combines cream cheese, bananas, and vanilla pudding for a wonderful texture and tasty flavor idea for any time of year.
Chocolate Chip Pie
This is the pie for the chocolate lovers. This old fashioned chocolate chip pie pairs so well with a graham cracker crust!
It uses more ingredients than many of the other recipes on this list, but the flavor it produces is well worth the effort.
This pie is one of my favorites to serve during the holidays. It's incredibly flavorful, and unique making it a huge hit every year.
Raspberry Cream Pie
Before finding this recipe I had never made a raspberry cream pie. And ever since that first bite, this has been on of my favorite fruit pies!
The texture and flavor is wonderful while being simple to make. It's a great last minute dessert pie that can be made any time of the year.
Eggnog Pie
Looking for a truly unique pie to make for the holidays? This pie produces a classic eggnog flavor with a creamy texture that is sure to be a big hit at your holiday get together.
This pie has become a Christmas tradition and I love making it for all those holiday parties every year.
Chocolate Mint Pie
Chocolate and mint come together in this pie producing a big and tasty flavor. No mixes or shortcuts with this recipe.
This is the type of pie your grandmother made, and the flavor will not disappoint. If you take your chocolate pies seriously, you have to give this recipe a try.
Strawberry Yogurt Pie
I am not exaggerating when I say this pie may have the best texture I've ever made! The flavor is wonderful and the creamy texture makes an amazing combination.
If you like strawberries, then you're going to love this simple to make pie.
Chocolate Silk Pie
While I won't say I've saved the best for last, I have to admit that this is one of my all-time favorite silk chocolate pies.
The rich and creamy filling is paired with a simple, homemade graham cracker crust (but you can use a premade if you prefer).
The flavor is classic, and I'm not sure if it could be improved. It's that good.