Growing up my family made a yearly pilgrimage to visit family in rural Wisconsin. And one of my favorite parts of our time there was helping my mother and aunt dry fresh cranberries.
Cranberries were, and still are, a staple in the kitchens of my family. The tart and sweet flavor is a wonderful addition to all sorts of tasty desserts, breads, and even dinner.
And one of the best ways to get that wonderful cranberry flavor year round is by drying your own cranberries.
There are a few ways to dehydrate cranberries and we will cover them today. So gather up your cranberries and prepare to learn a skill that will last you a lifetime.
How to Dehydrate Cranberries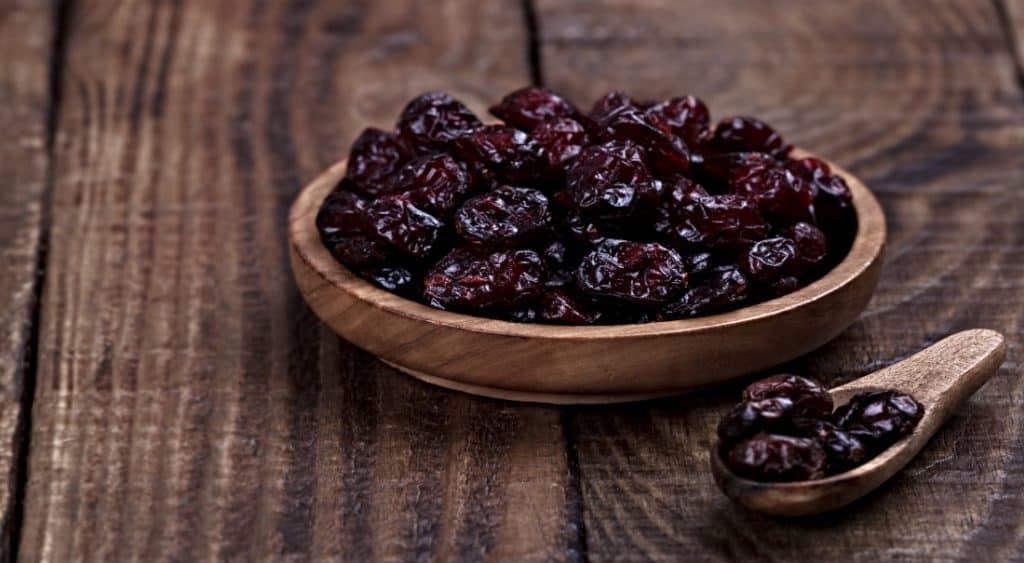 If you want to have delicious cranberries in your kitchen year round then the best thing to do is dehydrate your own. The process is quite simple and you can store dry cranberries for months at a time.
There is also a special sense of accomplishment every time I make a recipe with cranberries I dried myself. And I'm confident you will feel the same way.
Now, let's get to the good part!
Related: Substitute for Dried Cranberries
Drying Cranberries with a Dehydrator
If you already have a dehydrator at home then this is the method I recommend. It produces tasty tart cranberries with the perfect amount of sweetness. You can adjust the measurements below to fit the amount of cranberries you have to dry.
Ingredients for dehydrator cranberries
1 lb fresh cranberries. Use cranberries at the peak of ripeness. They will have a smooth skin and be either red or red-yellow in color. Your cranberries should be firm and not squishy but also not rock hard either.
1/4 cup of your preferred sweetener. You can use whatever sweetener you have on hand. I love using maple sugar or maple syrup but you can use cane sugar if that is all you have on hand.
2 quarts of water.
Once you have all your ingredients ready it's time to get to drying your cranberries. The process is quite simple but be sure to read the instructions carefully so you get perfect results.
Step by step guide to dehydrating cranberries
Thoroughly rinse of all of your cranberries and set them aside in a bowl. This will remove any dirt or chemicals that may be on the surface of your cranberries.
Add your water to a saucepan and bring it to a boil. Pour your water over your cranberries and allow them to soak in the water for about five minutes. Once they are done soaking, drain the water out of your bowl, leaving just the cranberries.
Add your sweetener to your cranberries and coat them by gently working the sweetener by hand. While sugar can work, I've had the best results using pure maple syrup. It coats easily and does not leave any clumps of sugar that need to be worked out before drying your berries.
Now it's time to put your cranberries into your dehydrator. Follow the specific instructions for your machine as precise temp and time varies by model. My dehydrator takes about 16 hours at 115 degrees. This is a good benchmark if you don't have your owners manual available.
Remove your cranberries once dry and transfer them to an airtight container and store them in a cool dark location.
How to Dry Cranberries in an Oven
If you don't have a dehydrator, don't worry, you can still dry your cranberries in the oven! It's quite simple and you use the same steps as above but you will pop your prepped cranberries in the oven instead of a dehydrator.
While you are preparing your cranberries, preheat your oven to 350 degrees. Once your cranberries are ready, line your baking sheet with parchment paper.
Add a single layer of cranberries to the parchment paper lined baking sheet and place them in the oven.
They will need to dry in the oven for at least 8 hours. Check them for desired dryness and remove them to cool once done.
After they have cooled, put your dried cranberries in an airtight container and store them in a cupboard or pantry.
How to Store Dry Cranberries
Dry cranberries can be stored in an airtight container in a cool, dark location for up to three months. The pantry or cupboard work best, but anywhere out of direct sunlight or extreme heat will work fine.
You can also freeze your dried cranberries if you want to store them for longer. Place your dry cranberries in freezer safe bags. Remove the air and seal them then write the date on them.
Now just place them in the freezer and they will stay good for a year or more.
It is best to freeze them in potion sizes that you intend to use as it is not recommended to refreeze dry cranberries.
Bottom Line
Cranberries are easy to dry and can be used in so many different ways. From baked breads to cookies they are a wonderful addition to a tasty family dessert. And if you are looking at a way to add more flavor and nutrition to breakfast, simply sprinkle some dry cranberries on your bowl of oatmeal.
The possibilities are endless and as you can see, it's quite simple to dry your own cranberries at home.