This simple pie crust recipe is perfect for no bake pies and just about any pie where you need a precooked crust. This pie pastry only calls for a few ingredients and is quickly made in the microwave.
If you need to make a pie crust quick and still get that homemade flavor, this is the recipe for you. It takes just minutes to prepare and then you can finish making your pie.
While no microwave recipe will perfectly replicate the flavor of a baked crust, this one is my go-to crust when I'm in a hurry.
It's ideal for no bake recipes where you need a traditional crust (as opposed to a graham cracker crust).
Make sure to bookmark or pin this recipe so you can find it the next time you need a quick homemade crust recipe.
How to Make a Homemade Pie Crust in the Microwave
This recipe is quick and easy to make. It is ideal for those recipes where you don't want to turn on the oven but need a fully cooked crust.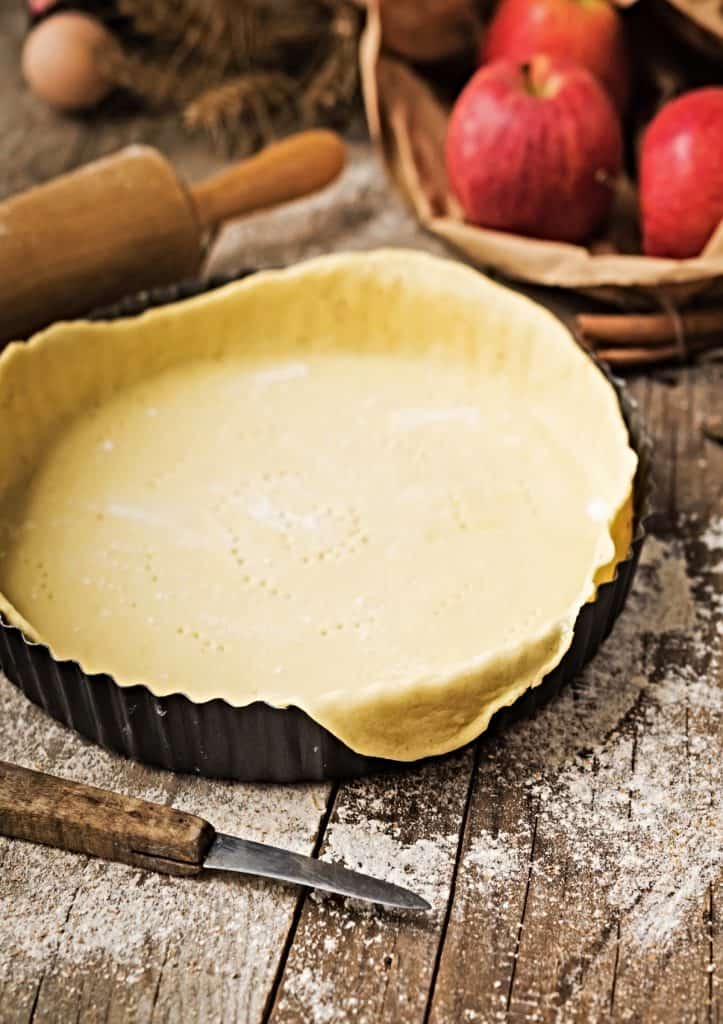 I use this crust primarily for no bake pie recipes, but it can be used for any recipe that calls for a pre-cooked crust.
Prep time is similar to most crust recipes, just a few minutes, and cook time is right around six minutes.
Try this pie with your crust: No bake fresh peach pie
Microwave Pie Pastry Ingredients
This is a straightforward crust recipe. So, no complicated ingredients are necessary.
Ingredient List
Flour: I recommend going with all-purpose flour for your crust. It produces the best texture and flavor. If your flour is clumpy, sift it prior to mixing in with your other ingredients.
Butter: This provides flavor and texture to our crust. You can opt for margarine if you want a crust with a more traditional color. Keep in mind that when using the microwave, you will not have that classic golden-brown color. But margarine will get you closer than butter.
Water: Start with two tablespoons of water and increase it another tablespoon if you find your dough is too dry. Make sure to use ice cold water.
Use your crust with this recipe: No bake chocolate pie
Simple Step by Step Instructions
If you've ever made a homemade crust before, then you will find the following instructions quite similar to what you've done in the past.
The primary difference is that we will be heating our crust in the microwave instead of the oven.
Step 1: In a mixing bowl, add your flour and salt. Cut your butter in chunks and add to flour mixture.
Step 2: Mix until coarse textured crumbs form.
Note: For best results, use a pastry blender. If you do not have one, a hand mixer will work.
Step 3: Return to your mixing bowl. While tossing with a fork, gradually add your water until desired consistency is achieved.
Step 4: Using your hands, press your dough into a ball.
Step 5: On a flour dusted surface, roll dough out into a 13″ circle.
Step 6: Press dough into microwave safe pie pan. If any air pockets are present, gently press them down using your fingers.
Step 7: Trim excess dough from edges (leaving about an inch extra.
Step 8: Chill your crust in the fridge for 20-30 minutes.
Step 9: Microwave your crust on high for 6 minutes. Your crust is done cooking when it is dry and opaque.
Note: If your microwave does not rotate, turn your crust 180 degrees halfway through the cooking time.
Step 10: Prick the bottom of your crust with a fork. Allow crust to cool while preparing your filling.
Simple Microwave Pie Crust
Quick and easy crust recipe ideal for no bake pies or any pie that requires a pre-cooked crust.
Equipment
1 Mixing Bowl

1 Pastry Blender or Mixer

1 Microwave Safe Pie Pan
Ingredients
1¼

Cups

All-Purpose Flour

½

Cup

Butter

1

Dash

Salt

2-3

Tbs

Water

ice cold
Instructions
Add flour and salt to mixing bowl. Cut butter into mixture.

Mix your ingredients until coarse crumbs form.

Gradually add your water while tossing with a fork. Continue until dough is formed.

Form dough into a firm ball using your hands.

Roll dough out on a flour dusted surface. Dough should be approximately 13" in diameter.

In a microwave safe pie pan, press your dough. Gently push down any air pockets with your fingers.

Trim off extra dough from edges, leaving about an inch extra.

Chill your crust in the refrigerator for 20-30 minutes.

On high, microwave your crust for about 6 minutes. You will know your crust is done cooking when it is dry and opaque.

Using a fork, prick the bottom of your crust. Move on to completing the rest of your pie recipe. Enjoy!
Nutrition