Looking for a no bake cream cheese dessert recipe that's easy to make and packed with delicious flavor? Today I'll be covering all my favorite cream cheese recipes you can make without turning on your oven.
Cream cheese based recipes produce amazing flavor and a creamy texture. You can make all sorts of recipes, so you are certain to find many great recipes you can make.
Below you will find my personal recipes as well as some from other great bakers. All of them taste great and are easy to make!
Best Dessert Recipes that use Cream Cheese
Whether you are looking for a pie, cheesecake, or new interesting to dessert that uses cream cheese, you are sure to find multiple new favorites below.
I've made every one of these recipes and they have all been huge hits with my family.
Cherry Cheese Pie
This cherry cheese pie brings together cream cheese, Cool Whip, and cherries for a wonderful flavor and creamy texture.
It's an amazing no bake recipe that is one of my family's favorites. I make it when it's too hot out to turn on the oven, or when we just want a simple and delicious dessert.
Cheesecake Squares
If you love traditional cheesecake, then you will love these traditional cheesecake squares. The recipe is super easy and the flavor is absolutely wonderful.
This is a homemade recipe, so no mixes are used. But all the ingredients are commonly found in most pantries so you may have everything you need already!
Strawberry Crunch Cheesecake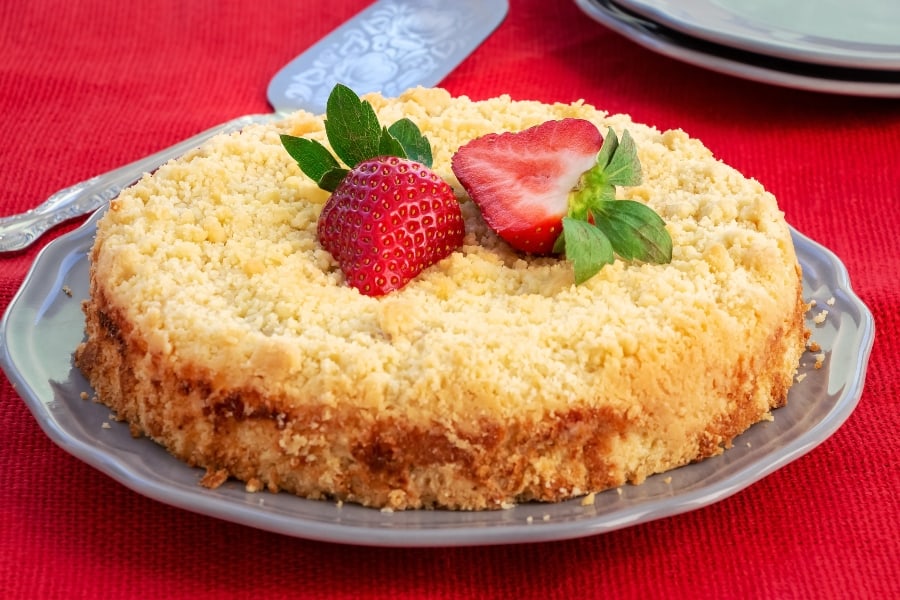 I love the combination of the smooth and creamy filling with the crunchy topping. This delicious recipe brings together strawberries and cream cheese with a cookie crumble topping.
This is another homemade recipe that uses common ingredients. The flavor is amazing and the texture is one of my personal favorites.
Blueberry Cream Cheese Pie
If you are a fan of blueberries, then you are in for a treat! This pie is incredibly flavorful and brings together cream cheese and blueberries for a wonderful texture.
This is a simple no bake recipe, and is as simple as mixing together your ingredients and chilling until set.
Cream Cheese Chocolate Pie
If you are looking for a smooth and creamy pie, then this chocolate cream cheese pie is the one for you! It has a dreamy texture and rich flavor perfect for any time of year.
It calls for pudding mix, Oreo cookies, whipped cream, and cream cheese, and the combination is amazing. This is one of my boys favorite pies.
Peanut Butter Pie with Graham Cracker Crust
This is one of my favorite desserts, and it is super easy to make! It has a rich and smooth peanut butter filling using a cream cheese base.
Then it's combined with a no bake graham cracker crust for a delicious dessert perfect for serving any time of year.
Apple Pie Cheesecake
How does combining apple pie filling with cheesecake sound? Let me cut to the chase, it's absolutely delicious!
This fun and simple recipe is great for a cozy family dessert, and since it's no bake, it can be made any time of year.
Crunchy Peanut Butter Pie
If you like your peanut butter pie to have a bit of a crunch, then you are going to love this recipe! It brings together the creaminess of cream cheese and the flavor and crunch of crunchy peanut butter.
And since it's no bake, you just chill your filling in a premade graham cracker or chocolate crust for an amazing flavor that can be served any time of the year.