This pie is so delicious nobody will even know you used canned peaches! I love fresh pies but there is a lot of the year where I just cannot get fresh peaches. And waiting for them to be in season just isn't going to cut it.
I didn't even realize until getting this recipe from my mother that many of those delicious peach pies from my childhood came from a can! I'm going to give her a pass though because not only is it delicious, it's super easy to make.
Now to be fair, my mom canned peaches herself but this recipe works so well with store bought peaches too.
Keep in mind that there are a number of different styles of store bought canned peaches out there. Any of them can work but your flavor will change depending on the type you get. I almost always make my pies with light canned peaches.
How To Make Canned Peach Pie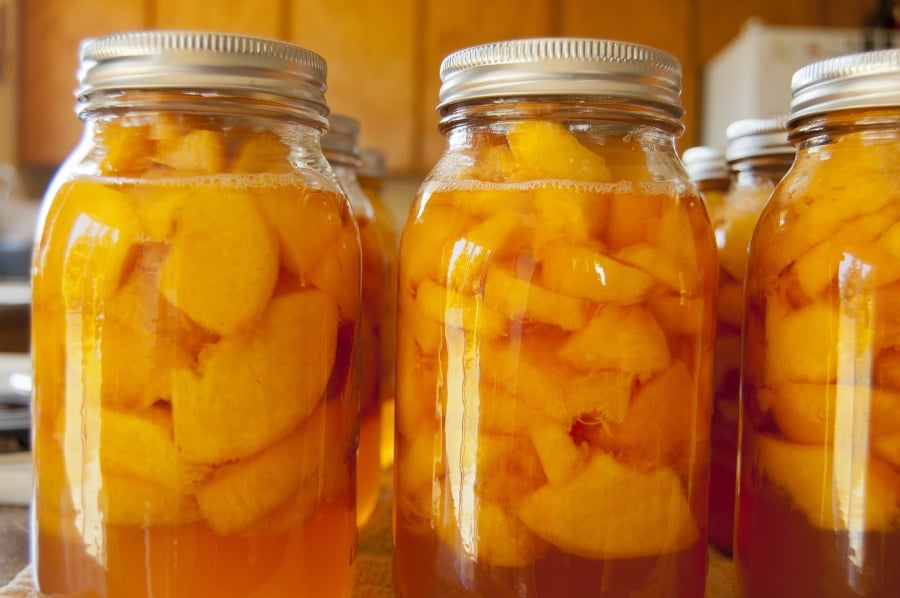 So when baking your pies keep in mind that most store bought pie fillings come ready for a seven or eight inch pie pan. But a nine inch pan holds just about two cans of premade pie filing.
In general an 8″ pie pan will need about 30 oz. of canned peaches. A nine inch deep dish will require a bit over 40 oz. of canned peaches.
These pies can be made with premade or homemade pie crust. Go with whatever you prefer.
This pie takes about an hour and ten minutes to make and it serves around eight people.
Canned Peach Pie Filling Ingredients
(9″ Pie) 3 Cans Sliced Peaches
(8″ Pie) 2 Cans Sliced Peaches
Pie Crust
3/4 Cup Granulated Sugar
1/3 Cup Cornstarch
2 Tbs. Butter
1 tsp. Vanilla Extract
1/4 tsp. Cinnamon
Start by preheating your oven to 400 degrees. Prepare your crust if making from scratch.
Open canned peaches and drain liquid into your saucepan and set aside.
Except for your peaches and vanilla extract, combine all other ingredients in your saucepan.
Stir constantly while cooking on medium heat. Continue until mixture has thickened.
Gradually stir in your peaches and heat them thoroughly. Now taste test your filling and adjust to desired sweetness by gradually adding more sugar.
Add vanilla extract to mixture and then immediately pour in pie crusts.
Crimp edges of homemade pie crust and cut slits in the top of your crusts.
Put foil on the edges of the pie and bake in the oven for about 10 minutes. Turn temperature down to 350 degrees and bake for an additional forty minutes.
Remove and cool before serving.
Recipe Notes
This is a great recipe for anytime of year. It makes it easy to make a classic peach pie flavor without needing fresh peaches.
I also like how versatile it is since you can adjust it in a number of ways to better suit your particular flavor preferences.
Here are some common substitutes you can use (and a couple other tips too!)
Cinnamon: While this is the classic spice for a peach pie, there are a number of alternatives, or additions, you can use when baking your pie.
Pumpkin Pie Spice works as a great 1:1 sub if you are all out of cinnamon
Apple Pie Spice is another simple 1:1 replacement that adds a warm and tasty flavor to your pie.
For a slightly different flavor, use 1/8 tsp cinnamon and 1/8 tsp of nutmeg. It's a great flavor and a little less spicy for those who like a milder pie filling.
Sprinkle some nutmeg or cinnamon on the top of your crust before baking. It adds a bit of color and a nice bit of flavor (this is particularly great when using a store bought crust).
If you're making your pie for a party or holiday get together, try a lattice top crust for a beautiful presentation.
Canned Peaches: Okay, so I know this is a canned peach pie recipe. Buuut, it is also a solid recipe base for when peaches are in season. For each can of peaches, sub in two fresh peaches. No other recipe changes needed!
Cornstarch: This is used to thicken our filling. And while I tend to always keep cornstarch on hand, you can opt for flour if you are all out of cornstarch. Go with slightly less than a 1:1 ratio, and add a little more flour if you need to thicken your filling up.
Crust Options
This filling works well with just about any pie crust you can think of. I tend to use a bottom and top crust, but you can go with a single crust and keep your pie open on top. It's completely up to you!
And while a store bought crust works great and saves you some time in the kitchen, this filling pairs wonderfully with a homemade crust.
Here are some of my favorite crust recipes you can use when making your canned peach pie.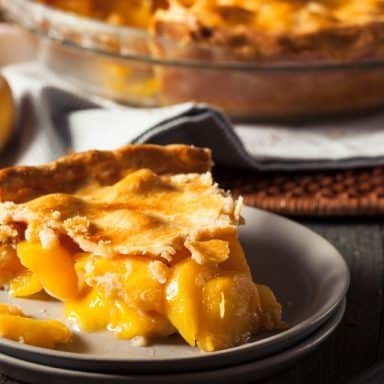 Classic Peach Pie (From Canned Peaches)
Classic Peach Pie Flavor Made Easy
Ingredients
Pie Filling
2

Cans

Sliced Peaches for 8" Pie

3

Cans

Sliced Peaches for 9" Pie

¾

Cup

Sugar

⅓

Cup

Cornstarch

1

tsp

Vanilla Extract

¼

tsp

Cinnamon

2

Tbs

Butter

Pie Crusts
Instructions
Prepare crusts if homemade.

Preheat oven to 400 degrees.

Open cans of peaches and drain liquid into your saucepan. Set aside peaches.

Except peaches and vanilla extract, add all ingredients to liquid and heat on medium stirring constantly until mixture thickens.

Add peaches and stir until they are heated through.

Add vanilla extract and immediately pour filling into pie crust.

Add crust top. Brush with butter and cut a slit in the top of the pie.

Add tin foil to the edges of the pie and bake at 400 degrees for ten minutes.

Lower heat to 350 degrees and bake for an additional 40 minutes.

Remove from oven and completely cool before serving.
Nutrition
Conclusion
My family absolutely loves this peach pie and I don't think they can tell the difference when I use canned peaches versus fresh!
I love how the house smells while baking this pie and clean up is super easy. I do make homemade crust when I have the time but I have no problem using store bought when I am crunched on time.
Definitely one of my favorite simple pie recipes I have ever made and it's well worth making for your next family dessert.
For more great pie ideas check out these recipes