Simple peach pie recipe using frozen peaches. This recipe is fast and can be used with store bought or homemade crust. Sweet and packed with wonderful peach flavor.
Peach pie is one of my all time favorites, and this recipe is a great option when fresh peaches aren't in season.
My family loves peach pie, and I bake them year round. And using frozen peaches is one of the best ways to make your pie filling.
In fact, the flavor is almost identical to what you get with fresh peaches since the frozen variety are flash frozen right after harvest, which locks in that wonderful peach flavor.
Check out my popular peach pie from canned peaches recipe.
This recipe produces a wonderful, classic peach pie that is sure to be a hit. And you will love how easy it is to make.
The filling uses common baking staples and you can use a homemade or store bought pie crust. It just depends on how much time you have!
How to Make a Peach Pie from Frozen Peaches
This recipe is for one pie, and it produces eights servings. Bake time comes in around twenty minutes and bake time averages an hour but oven temperature so vary.
Before getting started, make sure your prep area is cleaned up and organized. Gather together all your ingredients and then you're ready to go!
This recipe is pretty flexible, there are notes for common substitutes as well as ideas for additional pie toppings to get the inspiration going. But honestly, this recipe is excellent just the way it is!
Ingredients
For this recipe I call for premade pie crust, but feel free to use your favorite homemade crust recipe if you prefer.
While I do make my crust from scratch most of the time, using store bought crust is a real time saver, and there's nothing wrong with saving a little time!
If you're looking for a great crust recipe that works great with this recipe, I enjoy this one from Ina Garten.
Okay, so this is what you will need to make your peach pie. Keep in mind, I'll go over some commonly used substitutions below just in case.
2 pie crusts (for top and bottom of pie)
Frozen sliced peaches
All-purpose flour
Cinnamon
Lemon juice
Granulated sugar
Cornstarch
Salt
Egg
Common Substitutions
While I made sure most of the ingredients needed are stocked in most kitchens, let's go over some alternative ingredients you can use if you're all out of something.
Keep in mind that some replacement ingredients will alter the texture or flavor, but they are great options to use in a pinch.
All-Purpose Flour: I get asked for gluten free flour alternatives frequently. If you need one for this recipe the best option is arrowroot powder. You can also go with almond or oat flour with decent results.
Cinnamon: I highly recommend using cinnamon for this recipe, but if you're all out, or just not a cinnamon fan, you can choose from a couple other great spices. You can use nutmeg, allspice, pumpkin pie spice, or apple pie spice in this recipe. Or read my complete guide for cinnamon substitutes.
Cornstarch: Cornstarch is used to thicken your pie filling. It keeps your filling from being too runny. You can leave it out, but that will produce a soupy pie filling. Instead of cornstarch, use tapioca flour or all-purpose flour. Or go here for more options for cornstarch alternatives.
Lemon Juice: Lemon juice is used for it's acidity. It elevates the other flavors so omitting it isn't recommended. You can use another acid such as lemon zest or even apple cider vinegar if you're all out of lemon juice.
Recipe Instructions
Once you have all your ingredients gathered together it's time to get baking! If you've opted for making a homemade pie crust, prepare both of them before moving on to the following steps.
Start out by preheating your oven to 400 degrees and rolling out your pie crusts.
Dust your both sides of each pie crust with all-purpose flour. Then place one crust in your pie pan and shape it by hand.
Then, in a mixing bowl add your frozen peaches, cinnamon, lemon juice, granulated sugar, cornstarch and salt.
Gently stir with a wooden spoon until all your ingredients are evenly combined and coating your peaches. Be careful not to break your sliced peaches up by over stirring.
Transfer your peach mixture to your crust lined pie pan and gently even your filling our using your wooden spoon.
Next, place your second pie crust one top and pinch the edges together with your fingers or a fork.
Now beat your egg in a bowl using a fork or whisk and then brush your beaten egg on your top pie crust.
Finally, cover the outside edge of your pie crust with aluminum foil. This will prevent the edges from burning while baking.
Then cut at least four slits in your top crust with a knife. If using finishing sugar, sprinkle it on the top of your crust.
Place your pie on a baking sheet and set in preheated oven.
Bake for approximately one hour. Oven temperatures do vary, so watch your pie. It is done when your crust is golden brown and you can see filling bubbling through the slits you cut.
When done baking, carefully remove your pie from the oven and allow it to cool on a wire cooling rack.
Peach Pie Addons and Toppings
So this peach pie is wonderful just the way it is, but there are some great toppings and addons you can use for even more flavor!
This pie is perfect for topping with ice cream or whipped cream. It also works well with nuts sprinkled on top.
My kids enjoy it topped with pecans and whipped cream while my husband loves vanilla ice cream with caramel drizzled on top.
Related: Flavors that go well with peaches
Here are some topping ideas you can try. Mix and match for different flavor combinations.
Ice cream
Whipped cream
Caramel
Chocolate syrup
Pecans
Hazelnut
Toffee
Banana slices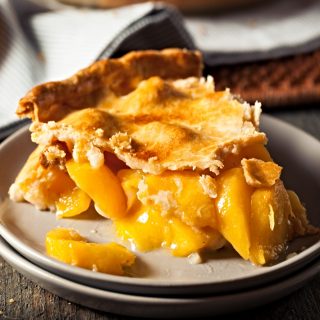 Peach Pie with Frozen Peaches
Delicious and quick peach pie recipe using frozen peaches. Prep time is fast and made from common ingredients.
Equipment
1 9" pie pan

Aluminum foil

Mixing Bowl
Ingredients
32

oz

Sliced Frozen Peaches

1/2

Cup

Granulated Sugar

2

tsp

All-purpose flour

1/2

tsp

Cinnamon

1

Large

Egg

1

tsp

Lemon Juice

3

Tbs

Cornstarch

Dash

Salt

2

Pie Crusts

1

Tbs

Finishing Sugar

optional
Instructions
Preheat oven to 400 degrees

Use all-purpose flour to dust both sides of each pie crust

In mixing bowl, add frozen peaches, cinnamon, sugar, salt, lemon juice, and cornstarch

Using a wooden spoon, gently stir until peaches are evenly coated

Add peach mixture to to crust lined pie pan. Spread filling evenly using wooden spoon

Place second pie crust on top of pie. Using your fingers, pinch the edges of the two pie crusts together.

Beat egg in bowl and then brush egg on top pie crust evenly. Cut at least four slits in top pie crust. Sprinkle finishing sugar on top crust

Cover edges of pie crust with aluminum foil and place pie pan on baking sheet

Bake in preheated oven for approximately 1 hour

Pie is done when your crust is golden brown and filling is bubbling through slits

Carefully remove pie from oven and allow it to cool on wire rack
Nutrition
Recipe Notes
It is possible to taste test the sweetness level of your filling before baking. Once you've combined your ingredients with your frozen peaches, taste a slice of peach.
If not sweet enough, add about a half tablespoon of sugar and taste again. Continue adding sugar in half tablespoon increments until desired sweetness is achieved.
If you find your filling is too sweet, simply add a half a tablespoon of lemon juice and taste again. Add small amounts of lemon juice until desired flavor is achieved.
Baking times do vary so keep an eye on your pie while baking. It is done when your crust is golden brown and the filling is visibly bubbling up through the slits in your top crust.
Serve your pie warm and add desired toppings right before serving.