Easy pie crust recipe using mayo, water, and flour. This classic style crust can be used with traditional pie recipes and produces a wonderful texture and flavor.
This is a great recipe to keep in your regular pie baking rotation. The mayonnaise adds just the right amount of flavor while using only three ingredients total.
It consistently produces great results, and while I wouldn't call it fail proof, it's pretty close. As written, this recipe produces two nine inch crusts.
It's great for two open top pies, or one pie with a top and bottom crust.
Make sure to bookmark or pin this recipe so you can find whenever you need a delicious homemade pie pastry.
You can roll your dough out on a flour dusted layer of plastic wrap. Once rolled to desired size, simply hold the bottom and flip onto your pie pan. Then just peel your plastic wrap off.

Dough Tip
How to Make a Simple Homemade Pie Crust Using Mayo
This is not only a great crust recipe when you're out of shortening or butter, but it's an awesome recipe in it's own right.
It only take minutes to prepare. Other than your rolling pin, all you need is a mixing bowl and a fork!
This dough can be made ahead of time. You can refrigerate or freeze it. Simply wrap it completely in plastic wrap before popping it in the fridge or freezer.
It will last up to two weeks in the refrigerator, or two months stored in the freezer.
Save this recipe for later: Classic homemade pie crust
Recipe Ingredients
It doesn't get much easier than this. Just three simple ingredients, and you will have a great tasting, homemade crust you can use for any type of pie.
Mayo
All-Purpose Flour
Water
Mayo: I generally use regular mayonnaise. Hellmann's or store bought works well. Just make sure not to use a flavored mayo (unless you really want to experiment).
Flour: All-purpose flour produces the best results. You can use cake flour, but I've found the texture to be denser. The flavor is still solid though. No need to sift your flour before stirring it in.
Note: Since I've been asked by readers, I want to remind you that Miracle Whip style dressing is NOT the same as mayo. Stick with real mayonnaise.
Another great option: Pie crust using shortening
Simple Step by Step Instructions
This is a straight forward recipe. No complicated techniques or steps needed. The key is to ensure you stir your dough until it forms a ball.
You can adjust the texture of your crust dough by adding a small amount of flour (if dough is too moist) or water (if dough is too dry).
Step 1: Add water and mayo to your mixing bowl and stir until blended.
Step 2: Stir in your all-purpose flour until dough forms a ball.
Step 3: Take your dough ball and divide it into two equal halves.
Step 4: Shape each half back into a ball (separately).
Step 5: Dust a clean surface with flour. Roll out each dough ball into desired size.
Step 6: Follow your pie recipe and enjoy!
One of my favorite recipes: Traditional crust using lard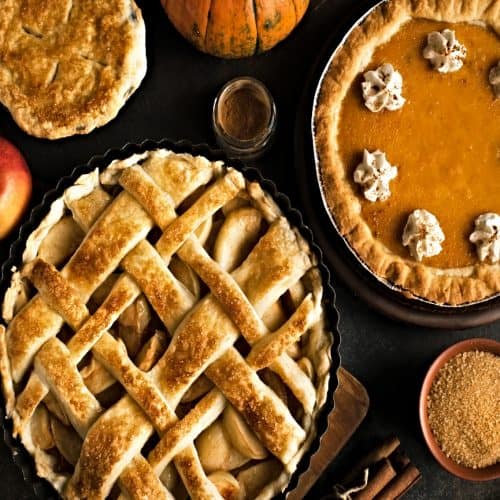 Simple Pie Crust Using Mayonnaise
Great flavor and texture, this crust can be used with any style of pie.
Equipment
1 Mixing Bowl

1 Rolling Pin
Ingredients
2

Cups

Mayo

2

Cups

All-Purpose Flour

2

Tbs

Water
Instructions
In your mixing bowl, stir together water and mayo until blended.

Add your flour while stirring. Stir until dough forms into a ball.

Divide your dough into two equal parts.

Reshape each section of dough into a ball.

On a flour dusted surface, roll out each dough ball into desired size.

Continue your pie recipe as written.
Nutrition