Frozen blueberries are incredibly versatile! They can be used to make all sorts of delicious recipes. In fact, I use frozen blueberries for baking more often than I do with fresh blueberries.
If you have some leftover frozen blueberries you're looking to use, or just want some great recipe inspiration, I've collected some of the best frozen blueberry recipes around.
Make sure to bookmark or pin this page so you can find it the next time you have some extra frozen blueberries.
Great Recipes that use Frozen Blueberries
Whether you have a bunch of blueberries you froze yourself, or a bag of store bought ones to use up, there are so many great recipes you can use them in.
Below you will find a huge list of simple and delicious recipes you can make today!
Blueberry Pie
This is my super tasty and easy to make frozen blueberry pie recipe! It's one of my most popular pie recipes, and thousands of readers have made this pie for the holidays as well as for a tasty family dessert.
With a prep time of just about 15 minutes and a bake time of 30, this pie is quick and easy to make. It's one of my family's favorites and I make it year round.
On top of that, you only need a handful of simple ingredients.
Frozen Blueberries
Cornstarch
Granulated Sugar
Salt
Lemon Juice
Blueberry Pie Bars
If you like your blueberry pie as a finger food, this is the recipe for you.
This recipe was a big winner with my family. It's bursting with great blueberry flavor and a scrumptious texture.
This is one of those recipes that can use fresh or frozen blueberries, so it's a great year round dessert to make.
Ingredients List
All-purpose flour
Sugar
Salt
Butter
Filling
Eggs
Sugar
All-purpose flour
Sour cream
Salt
Frozen blueberries
Blueberry Crisp
Ah, a classic blueberry crisp recipe that provides a great flavor and texture when using frozen blueberries! I absolutely love this recipe.
The flavor is excellent and the crispy crust is the perfect pair for the juicy blueberry filling.
This recipe took me about fifteen minutes to prepare and bake time was just about an hour.
It does have a few more ingredients than other similar recipes, but the flavor and texture were more than worth it.
Ingredients List
Frozen blueberries
Granulated sugar
Cornstarch
TOPPING
Old fashioned rolled oats
All-purpose flour
Brown sugar
Cinnamon
Salt
Unsalted butter
Blueberry Dump Cake
This dump cake is quite similar to a blueberry cobbler with a cake top. That means it's perfect for those who love the flavor of blueberry cobbler but prefer a soft crust topping.
This recipe was a huge hit with my husband, and he's already asked for it to be added to the regular dessert rotation.
And it really is that good! It's a great recipe for finishing up those leftover frozen blueberries, but it can also be made with fresh when they are in season.
Ingredients List
Frozen blueberries
Fresh orange zest
Fresh orange juice
All-purpose flour
Yellow cake mix
1Unsalted butter melted
Buttermilk
Blueberry Scones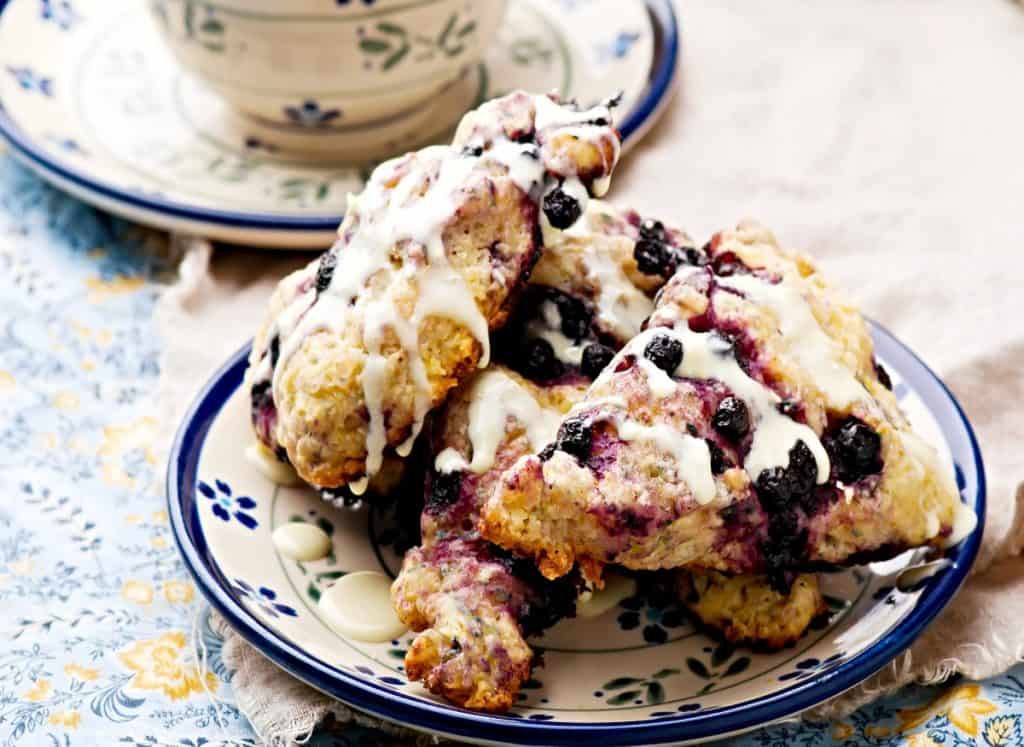 I absolutely adore this recipe! These blueberry scones are one of my favorite breakfast treats, and paired with a fresh brewed cup of coffee, I'm in my happy place.
These scones came out with a great texture, and the vanilla glaze adds the perfect amount of sweetness. It can be made with fresh or frozen blueberries, so it's a great year round recipe.
This recipe is a little more involved than some others on the list, but the flavor and texture are worth the extra effort.
Prep took me about 25 minutes and bake time was an additional 20 minutes.
Ingredients List
Scones
Salted butter
All-purpose flour
Baking powder
Granulated white sugar
Egg
Sour cream
Heavy cream
Vanilla extract
Frozen blueberries
Decorator's sugar
Vanilla Glaze
Confectioners sugar
Corn syrup
Vanilla extract
Milk
Blueberry Pancakes
Here is another great breakfast recipe you can use those frozen blueberries in! I love a sweet, berry filled breakfast, and this recipe produced a light and fluffy stack of pancakes the whole family enjoyed!
This is a "from scratch" recipe, so it will take more time than using a box mix. But the flavor and texture is so good, you won't mind the extra time it takes to prepare.
In fact, this is one of the better all-around pancake recipes I've made, it's definitely making it to the regular rotation.
Total time from start to finish was 25 minutes, so not that bad at all.
Ingredients List
Flour
Baking powder
Baking soda
Salt
Buttermilk or whole milk
Sugar
Eggs
Vanilla extract
Melted butter
Frozen blueberries
Blueberry Frozen Yogurt
So I've been making a lot of frozen yogurt recently, and testing out lot's of different recipes. And this one quickly became a new favorite.
Not only for me, but the entire family love's the deep flavor and creamy texture. So if you have some frozen blueberries on hand, this is an excellent recipe to give a try.
Not only does it have an amazing flavor and texture, it only takes about ten minutes to make!
You're not going to find many recipes as easy as this that offer the same amount of flavor.
Ingredients List
Unsweetened plain non-dairy yogurt
Frozen blueberries
Maple syrup (optional)
Vanilla extract
Salt
Non-dairy milk
Cake Mix Blueberry Muffins
No blueberry recipe roundup would be complete without blueberry muffins! And this wonderful recipe is incredibly popular.
It was shared with me by a close friend and boy was she right, it's wonderful! I love making use of multiple ingredients that have been sitting, and this one uses both frozen blueberries and boxed cake mix.
Note: You can also make this recipe with fresh blueberries, so make sure to save it because you'll be making it over and over again!
It is super easy to make and it never fails to be a family favorite.
Ingredients List
Cake mix
Flour
Baking powder
Eggs
Milk
Vegetable oil
Frozen blueberries
Bottom Line
Every one of these recipes is a great way to use up those frozen blueberries. They are packed with flavor and each of them were winners with my family.
On top of that, most can be made using fresh blueberries with little alterations. So they are all great recipes to save to make year round.