Are you making angel food cake but you are all out of cream of tartar, or can't find any at the store?
You don't have to worry! There are simple substitutions you can use to replace cream of tartar no matter which angel food cake recipe you are making.
Note: If you don't keep cream of tartar stocked in your pantry, you should! It's an incredibly versatile ingredient and is a great way to improve many types of baked goods.
So what are the best substitutes for cream of tartar when making angel food cake?
The top cream of tartar replacements you can use to make angel food cake are lemon juice, white distilled vinegar, and baking powder.
Cream of Tartar Alternatives for Baking Angel Food Cake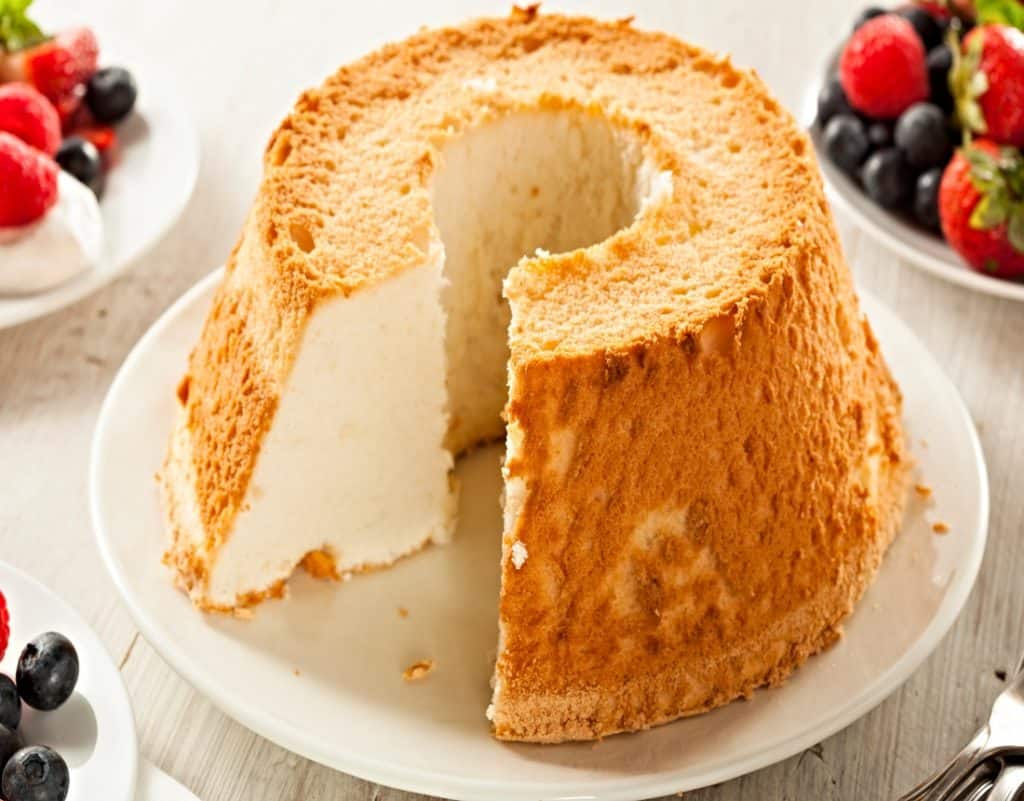 Whether it's making voluminous meringue, delicious chewy cookies, or moist and succulent angel food cake, cream of tartar is an indispensable ingredient to keep on hand.
Produced by combining tartaric acid and potassium hydroxide, cream of tartar is used in angel food cake to prevent your egg whites from bonding.
This means it allows helps your eggs stabilize while improving volume. This is an important step in making a delicious angel food cake.
So when you are all out of cream of tartar, use one of the following alternative ingredients and you will have great results.
Related: Ways to use leftover angel food cake
Lemon Juice
Lemon juice is an excellent alternative for cream of tartar when making angel food cake. It will stabilize your egg whites and produce a great finished texture.
Lemon juice will impart additional flavor to your angel food cake, but it is subtle and works well.
Related: Lemon juice vs lemon zest
Equivalent

4 teaspoons of lemon juice equals 1/8 teaspoon of cream of tartar
Distilled White Vinegar
Another great substitution option for cream of tartar is distilled white vinegar. It will also stabilize your eggs and provide volume.
Make sure to only use distilled white vinegar for angel food cake. Use the same ratio as you would with lemon juice when going with vinegar.
Equivalent

4 teaspoons of distilled white vinegar equals 1/8 teaspoon of cream of tartar
Baking powder
If you don't have lemon juice or distilled white vinegar, you can use baking powder in place of cream of tartar.
Baking powder is actually cream of tartar combined with baking soda. It's a traditional leavening agent used in all types of baking.
If your recipe calls for baking soda and cream of tartar, replace both of them with equal amounts of baking powder. Otherwise use the replacement ratio below.
Equivalent

1/2 teaspoon of baking powder equals 1/8 teaspoon of cream of tartar
Bottom Line
Cream of tartar plays an important role in making a great tasting and moist angel food cake. But all is not lost if you're all out.
You can use lemon juice, distilled white vinegar, or baking powder to make a wonderful angel food cake no matter what recipe you are using.