Are you making a muffin recipe that calls for sour cream but you're all out? Or maybe you don't like the flavor of sour cream and need a better tasting alternative?
No matter why you need to sub out sour cream, there are a number of substitutes you can use to make moist and delicious muffins no matter what recipe you are using.
So what are the best substitutes for sour cream when making homemade muffins?
The top sour cream alternatives for baking muffins are Greek yogurt, buttermilk, crème fraiche, cream cheese, kefir, and coconut milk.
There will be some subtle changes to texture and flavor with some of these replacements, so make sure to read on for how to use each of them in your muffin recipe.
Sour Cream Alternatives for Baking Muffins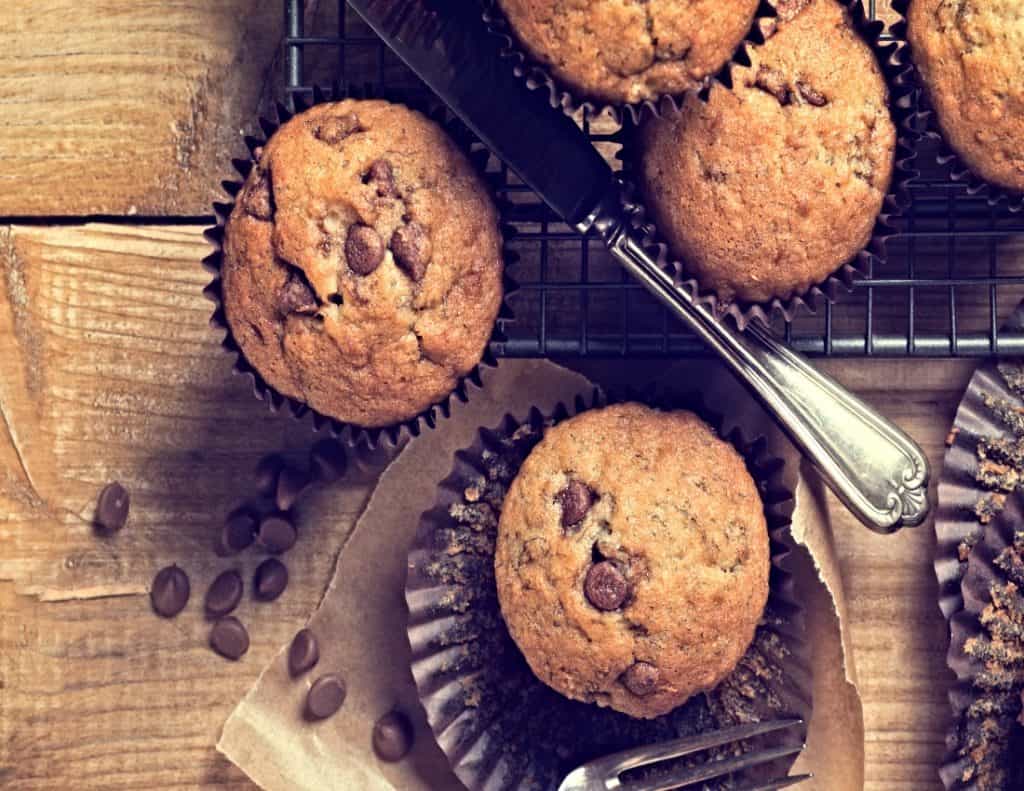 There are all different types of muffin recipes that call for sour cream. It provides a rich texture and flavor that is quite delicious.
In fact, baking with sour cream is one of the best ways to produce more moisture in your recipe without thinning out your batter too much.
So when we look at potential substitutes for sour cream, we need to find ingredients that provide that moisture while producing a similar flavor.
Now let's discuss how to use each of the top sour cream replacements.
Related: Substitute for eggs in muffins
Greek Yogurt
Greek yogurt is my favorite addition to all sorts of muffins. It provides the moisture needed for a great texture as well as a rich flavor that pairs well with any style of muffin.
While you can use regular yogurt, Greek yogurt is thicker and provides a texture most similar to sour cream.
Go with unflavored Greek yogurt and if you use regular yogurt, strain the excess liquid before adding it to the rest of your ingredients.
Related: Greek yogurt alternatives
Equivalent

1 cup of Greek yogurt equals 1 cup of sour cream
Buttermilk
Buttermilk is another excellent replacement for sour cream in any type of muffin recipe. It has a flavor that is quite similar to sour cream and it provides a lot of moisture.
Buttermilk is thinner than sour cream so it will produce a denser muffin. But it will be moist and packed with flavor.
Related: Dairy free buttermilk replacements
Equivalent

3/4 cup of buttermilk equals 1 cup of sour cream
Crème Fraiche
If you have crème fraiche available it provides a flavor and texture nearly identical to sour cream. Originating in France, it has a slightly more subtle, and less tangy, flavor than sour cream.
It pairs wonderfully with any style of muffin and provides an amazingly moist texture and rich flavor.
Related: Crème fraiche alternatives
Equivalent

1 cup of crème fraiche equals 1 cup of sour cream
Cream Cheese
Cream cheese isn't just for cheesecake and topping bagels, it's a great substitute for sour cream when baking muffins.
Cream cheese has a rich flavor that works great in all types of muffins. But it is quite a bit thicker, so it will need to be thinned out or loosened up before adding it to the rest of your ingredients.
Simply mix a tablespoon of milk, almond milk, or buttermilk in until well combined.
Related: Cream cheese replacements
Equivalent

3/4 cup of thinned cream cheese equals 1 cup of sour cream
Kefir
Thicker than buttermilk but thinner than Greek yogurt, kefir is an excellent sub for sour cream that provides just the right amount of moisture and flavor for muffins.
Kefir use has been gaining in popularity for good reason. It goes in everything from smoothies to pancakes, waffles and more.
It isn't carried in every grocery store, but if you have some available, it's a great sour cream substitute.
Related: Substitutes for kefir
Equivalent

3/4 cups of kefir equals 1 cup sour cream
Coconut Milk
If you are looking for a dairy free and vegan friendly substitute for your muffins, coconut milk is a great option.
As with many dairy free substitutes in baking, it doesn't provide the same texture as you would get with sour cream. Your muffins will be denser with less height, but they will be moist.
You also need to make sure the subtle coconut flavor pairs well with the rest of the flavors in your recipe. Other than that, coconut milk is a great diary free alternative.
Related: Alternatives for coconut milk
Equivalent

3/4 cup of coconut milk equals 1 cup of sour cream
Sour Cream Replacement for Muffin FAQ
Can you skip sour cream in muffins
Sour cream provides moisture, flavor, and structure to your muffins. So if you are making a recipe that calls for sour cream, you will want to use a substitute instead of omitting it completely.
You can use Greek yogurt, cream cheese, buttermilk, crème fraiche, or coconut milk instead of sour cream.
How do you make a homemade sour cream replacement
If you have the time, you can make a wonderful homemade sour cream.
You will need heavy cream and either lemon juice or distilled white vinegar and whole fat milk.
Mix together a cup of heavy cream and a teaspoon of lemon juice or vinegar.
Allow it to sit at room temperature for ten to fifteen minutes and then stir in a quarter cup of milk.
Cover your bowl with plastic wrap or lid and set it at room temperature for one to two days.
Make sure it does not sit in direct sunlight. Once it has sat, you can use it or store it in the fridge in a sealed container.