Delicious vanilla filling perfect for any type of cupcake. This recipe also makes a great filling for pastries and just about any other type of dessert.
Oh boy do I love cream filled cupcakes! They are just so delicious, but I have to be careful because when I use this filling I'm liable to eat the whole batch.
The texture is creamy and smooth and the flavor is just the right amount of sweet. This is my go to filling recipes for any type of cupcake.
Make sure to pin or bookmark this recipe so you can find it the next time you need it.
How to Make Homemade Cupcake Filling from Scratch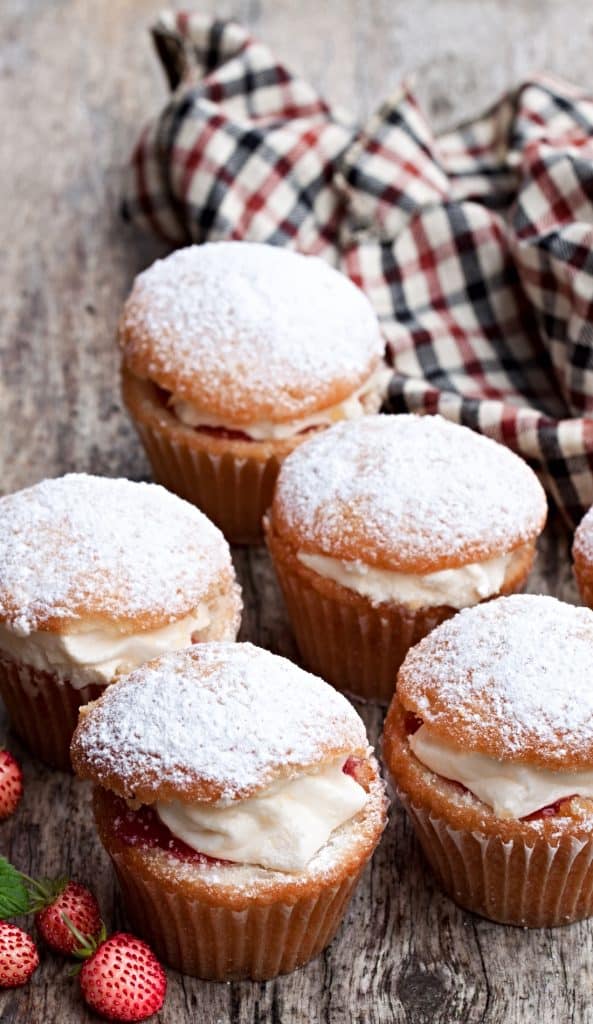 Not only does this filling taste delicious, it's also quick and super easy to make. The total prep time is less than fifteen minutes, so it's a great way to add flavor to your cupcakes without spending a ton of time in the kitchen.
For equipment, you're going to need a saucepan to boil your milk, a mixing bowl, and a hand or stand mixer.
Related: How to freeze frosted cupcakes
Vanilla Cupcake Filling Ingredients
Not only is this recipe delicious and quick to make, you're only going to need a few common baking ingredients.
There's a good chance you have everything you need already.
Vanilla Cream Filling Ingredient List
All-Purpose Flour
Milk
Butter (softened)
Vanilla Extract
Powdered Sugar
Related: Buttercream frosting recipe no heavy cream
Types of Cupcakes for This Filling
Chances are, you have a cupcake recipe in mind for this filling already. But just in case you don't, I'll list some of my favorite cupcake recipes you can use with this filling.
But honestly, this filling is so versatile, you can use any of your favorite cupcake types and the flavor will taste wonderful.
Simple Step by Step Instructions
So once you have your ingredients gathered, you're just a few simple steps and fifteen minutes from having the perfect homemade cupcake filling.
I like to prepare my filling just before I fill my cupcakes. But you can make it ahead of time and store it in the refrigerator if you prefer.
Related Recipe: Buttercream frosting using shortening
Step 1: Add your milk and flour to your saucepan and bring to a boil. Stir and continue boiling until it is a paste like texture
Step 2: Remove from heat, set aside, and allow to cool
Step 3: In mixing bowl, add your butter and remaining ingredients and cream
Step 4: Add flour mixture and beat on medium high until desired texture is achieved. Tends to take 3-5 minutes
Step 5: Fill cupcakes and enjoy!
Creamy Vanilla Filling For Cupcakes
Wonderful flavor and texture ideal for any style of cupcake
Equipment
Hand or Stand Mixer

Saucepan

Mixing Bowl
Ingredients
5

Tbs

All-Purpose Flour

1

Cup

Milk

8

oz

Butter

½

tsp

Vanilla Extract

1

Cup

Powdered Sugar
Instructions
Add your milk and flour to your saucepan and bring to a boil. Stir and continue boiling until it is a paste like texture

Remove from heat, set aside, and allow to cool

In mixing bowl, add your butter and remaining ingredients and cream

Add flour mixture and beat on medium high until desired texture is achieved. Tends to take 3-5 minutes
Nutrition
Recipe Notes
This filling can be used for any style of cupcake and can even be used to fill pastries.
For a splash of color, use food coloring at the very end of the recipe.
You can make this filling ahead of time. Simply store it covered in your refrigerator until ready to use.
Makes enough filling for a dozen standard sized cupcakes