Smooth and creamy vanilla frosting perfect for frosting any type of dessert. This recipe is quick and easy to make but is loaded with great flavor.
When you need a quick and tasty vanilla frosting, it's hard to beat this recipe. And because it uses pudding mix and a couple other ingredients you won't find one easier to whip together.
Whether you need to frost a cake, cupcakes, or even cookies, this recipe will add a wonderful flavor and texture everyone will love.
Make sure to bookmark or pin this recipe so you can find it the next time you need to make homemade vanilla frosting.
When frosting a multi layer cake, plate your cake on a cake pan and then set the cake pan on an upside down mixing bowl. This will allow you to easily spin your cake as you frost it. This really helps getting an even and good looking layer of frosting on the sides and top of your cake.

Frosting Tip
Save this recipe for later: Chocolate pudding frosting
How to Make Homemade Vanilla Frosting using Pudding Mix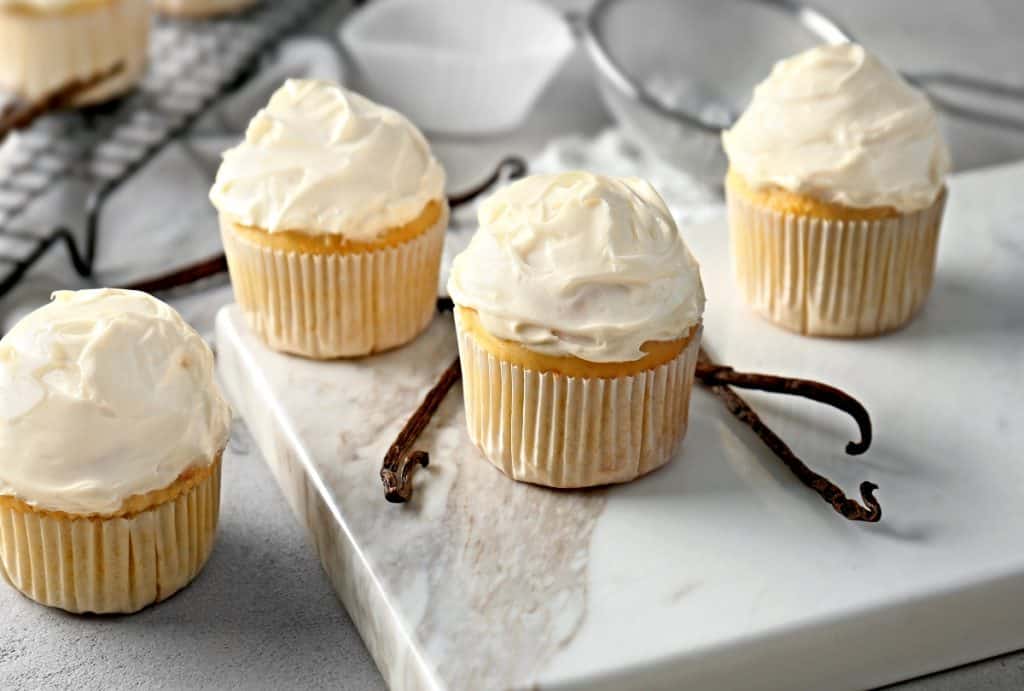 If you've ever made instant pudding, then you will have no problem making this frosting. It's so easy to make, I usually have my kids lend a hand.
They love helping in the kitchen and they are great stirrers!
Prep time for this recipe is under ten minutes so it's a great last minute option, but you can make it ahead of time and just keep in the fridge until you're ready to start frosting.
This yields two cups of frosting and the only equipment you need is a saucepan, a hand mixer, and a mixing bowl.
Pin this great recipe: Vanilla filling for cupcakes
What Ingredients You Need
All you need are three simple ingredients. So no complicated, long ingredients list for this recipe!
You're going to be amazed at how much flavor you get with such little effort. And on top of that, it's super affordable.
Ingredients List
Vanilla Pudding Mix
Milk
Heavy Cream
Pudding: Go with a 3 3/4 ounce box of instant vanilla pudding. I've had great results with Jell-O as well as store brand. So go with whichever brand you prefer.
Milk: Milk provides thickness and texture to our frosting. You will use as much milk as your particular brand of pudding mix calls for. I prefer whole fat milk, but you can go with 2% milk if you have it.
Heavy Cream: You're going to whip your heavy cream to stiff peaks and incorporate it with your vanilla pudding. And that's the magic of this recipe. The heavy cream produces an amazing texture that works perfectly with our pudding.
Make sure your heavy cream is chilled before whipping it. Cold cream whips up easy and quick. You can also chill your mixing bowl and beaters in the fridge or freezer while your pudding is cooking.

Frosting Tip
Try your frosting on these: Homemade yellow cupcakes
Easy Recipe Instructions
This is without a doubt one of the easiest frosting recipes I've ever made. I'll use this frosting for all sorts of desserts.
The flavor is so good without being overly sweet. When you combine great flavor with being simple to make, you have a winning combination.
Step 1: Prepare your pudding according to the instructions on your box.
Step 2: Cover and cool your pudding.
Step 3: Whip your heavy cream to stiff peaks.
Step 4: Fold your whipped cream into your pudding until well combined.
Step 5: Frost your dessert and enjoy!
Cool your pudding in the freezer while you whip your cream. You want your pudding to be completely cool before folding in your whipped cream.

Frosting Tip
Try this recipe: Soft sugar cookies (great with this frosting)
Easy Vanilla Pudding Frosting
Smooth and fluffy frosting that can be used with any type of dessert.
Equipment
1 Saucepan

1 Hand Mixer

chill beaters
Ingredients
1

3¾ oz

Vanilla Pudding Mix

Milk

amount called for on pudding box

1

Cup

Heavy Cream
Instructions
Follow the instructions on your pudding box.

Remove from heat, cover, and cool completely.

In your chilled mixing bowl, whip your heavy cream until stiff peaks form.

Fold your whipped cream into your pudding until combined.

Frost your dessert and enjoy!
Nutrition
Liv's Vanilla Pudding Recipe Notes
Any brand of pudding mix will work.
Go with whole fat milk or 2%.
Keep your heavy cream chilled until it's time to whip it.
Chill your mixing bowl and beaters for around fifteen minutes before making your whipped cream.
Store unused frosting, sealed in your refrigerator for up to two days.