Have you ever had leftover ice cream cones and didn't know to use them up before they go bad?
Well, over the years I've come up with some creative ways to use ice cream cones. So whether you want some simple ideas or specific recipes, you came to the right place.
What are some other creative uses for ice cream cones that we missed? Let us know in the comments below. Happy eating!
Treat Inspiration For Using Ice Cream Cones
Ice Cream Cones as Pie Crusts
You can put your ice cream cones in a large plastic bag, seal it, then use a rolling pin or your hands to crush them. No mess and super quick and easy.

Tip
Chances are that if you make pies somewhat frequently, then you will have thought of using some of the non-standard pie crusts that are out there.
From cookie crust to graham cracker crust and everything in between, as long as something is somewhat similar to the texture and material of your standard pie crust, it can probably be turned into an alternative pie crust.
And ice cream cones are no exception to this rule.
To turn your ice cream cones into a delicious, no bake pie crust, simply prepare it like you would a homemade graham cracker crust.
What you need.
1 1/2 cups crushed ice cream cones
1 tablespoon packed brown sugar
1 tablespoon granulated sugar
7 tablespoons melted butter
Crush up your ice cream cones or pulverize them in a food processor. Add them to a mixing bowl along with your melted butter and sugars. Blend with a fork and then press into a pie pan.
Bake at 375 degrees for about seven minutes if using for a no bake pie.
Toppings for Fruit Salads
Crushed up ice cream cone is a wonderful topping for a fresh fruit salad. It adds a wonderful texture with a subtle sweetness that pairs great with any fruit.
Here is one of my favorite fruit salads. I make a big enough batch for my family of four, but you can adjust up or down for your particular needs.
Banana
Melons
Pineapple
Strawberries
Blueberries
Peach
Grapes
Crushed Ice Cream Cone
Granola
Slice or cube your fruit and then toss together. Top with crushed ice cream cones and any other desired toppings. Granola, nuts, whipped cream, and even Greek yogurt are some great additions.
Toppings for Yogurt, Parfaits, and Ice Cream
As noted above, ice cream cones pair well with yogurt. It also goes great with ice cream (no surprise there), cottage cheese, smoothies, and parfaits.
Simply put together your usual recipe and sprinkle your crushed ice cream cone over the top. If you want a simple and delicious smoothie recipe, I'll list mine below.
1 Cup Greek Yogurt
Mixed Berries and Fruit
1 Banana
2 Tablespoons Creamy Peanut Butter
Crushed Ice Cream Cones
Simply blend together everything but your ice cream cone pieces. Then pour into a glass and top with your crushed cones. This is a thick smoothie, so I use a spoon. It's super delicious.
Holders for Other Foods
Want to make a fun, on the go snack? Those unused cones make the perfect, edible carrier for all sorts of tasty snacks.
Add in some mixed fruit for a traveling fruit cup. This is a great way to get young one a tasty snack when on the road.
Or, add some crumbled peanut butter cookies and some whipped cream for an interesting treat for the kids.
Basically, you can add any sweet or fruity snack to your ice cream cones. It's fun, and tasty!
Ice Cream Cone Cannoli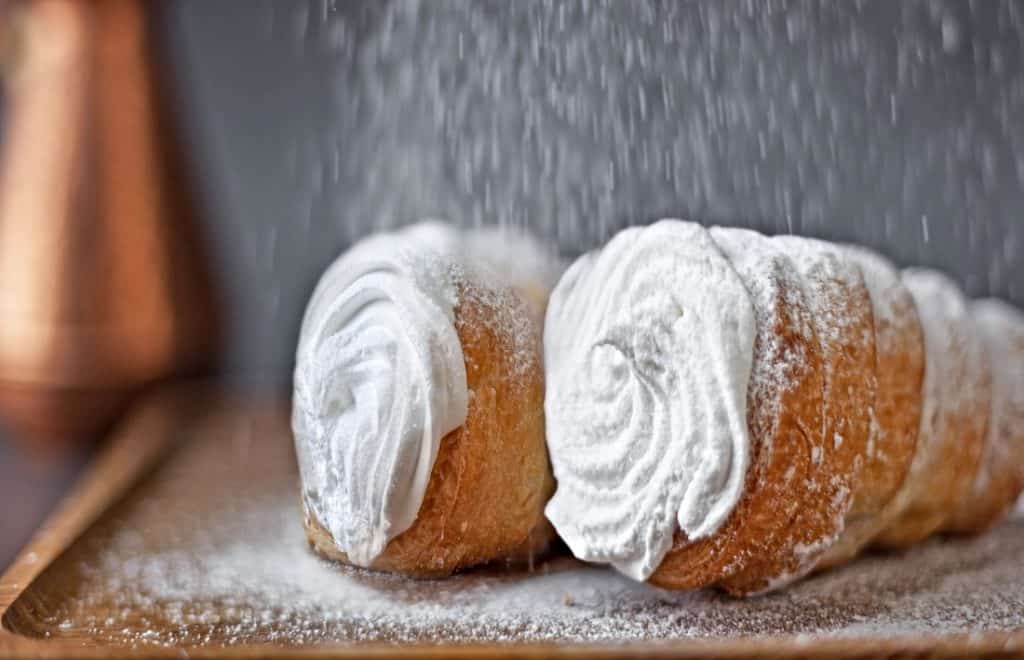 Similar to the idea above, you can use those cones to make an interesting variation on the classic cannoli.
This is a great way to make a tasty cannoli like dessert that's much quicker and easier to prepare.
Here's what you need for your filling.
15 oz Ricotta Cheese
1/2 Cup Heavy Cream
1/2 Teaspoon Vanilla Extract
1/4 Teaspoon Ground Cinnamon
1/2 Cup Powdered Sugar
Add your heavy cream to a mixing bowl and mix until stiff peaks form. Set it aside.
Now add your ricotta cheese, cinnamon, vanilla extract, and powdered sugar to a separate mixing bowl and blend on medium high speed for about one minute.
Fold your whipped cream into your ricotta mixture until evenly distributed. Chill for a few hours and then scoop into your ice cream cones. Serve and enjoy!
Sprinkle on Cake or Pie
And last but not least, crushed ice cream cones can be used to top pie or cake for a satisfying crunch and sweet flavor.
This is one of my kids favorite little baking hacks. They love crushing the cones and adding them to their piece of chocolate cake.
It's a great texture enhancer and super simple. And for the more creative types, cones can be used for decorating cakes.
I'm not an expert cake decorator, but have seen others use them to make castles and even figures.
Conclusion
Other design ideas include sandcastles and beach themes, forests (with the cones being the trees), a fantasy candy land theme, and so on. If you want to spread out the joys of decorating a cake with your children, you can even consider taking them to the store and choosing a collection of toppings to go along with the theme of their choice.