Fun and super flavorful little funnel cake bites! Perfect for parties and as an entertaining family treat.
These bite sized puffed pastries are a lot of fun to make and after my boys had their first funnel cake at the local fair a few years back I knew I had to get a recipe that was easy enough to make at home and just as yummy.
Cook time is only twenty minutes so it's super quick to make. They are great last minute treats and perfect for a snack to take on the road.
I love some powdered sugar sprinkled on top but you can glaze them, frost them in vanilla or chocolate or just about any of your favorite sweet toppings.
How To Make Homemade Bite Sized Funnel Cakes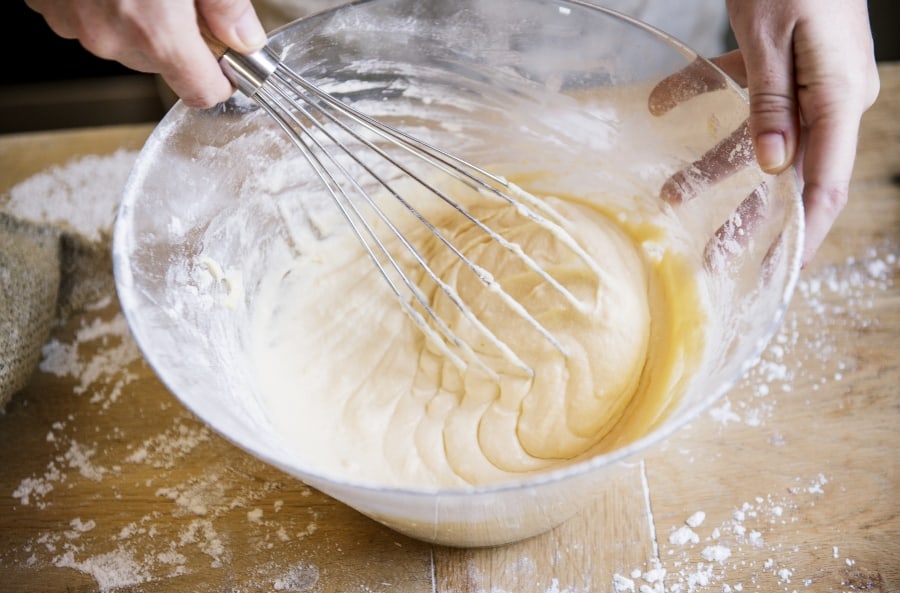 This recipe is super easy and fun to make. With standard baking ingredients and less than a half an hour and you'll have funnel cake better than you can get at the fair.
Funnel Cake Ingredients
1 Cup All-Purpose Flour
2 Tbs. Salted Butter
1 Tbs. Vegetable Oil
1 Tbs. Granulated Sugar
1 tsp. Pure Vanilla Extract
1 tsp. Baking Powder
1 Cup Milk
1 Large Egg
Pinch of Salt
Oil for frying
Powder sugar for topping
Add sugar, melted butter, sugar, egg, vegetable oil, milk, and pure vanilla extract to a large mixing bowl. Mix until well combined.
Stir while gradually adding your flour, salt, and baking powder. Continue until blended.
In a medium skillet heat up your oil for frying. Have at least one inch of oil in your skillet.
Once your oil reaches 350 degrees and pour your funnel cake batter to cook.
Use a piping bag or cream syringe.
If you don't have either you can snip a corner off a ziplock baggie and use that instead
Fry your funnel cakes until light brown. It should only take about one minute per side. Repeat until all batter has been cooked.
Allow funnel cakes to cool on a paper towel lined tray.
Once cooled move them to a serving dish and sprinkle with powdered sugar.
Serve immediately.
For more fun you can make a funnel cake bar. Simply fill some serving bowls with your favorite toppings and let your kids or guests top their own funnel cake bites.
Some fun options are chocolate or vanilla dipping sauce. Sprinkles and oreo cookie crumbles are also a great option.
Have fun with it!
Fantastic Funnel Cake Bites
Fun bite sized treats perfect for entertaining, kids parties, and family dessert.
Ingredients
1

Cup

All-Purpose Flour

2

Tbs.

Salted Butter

1

Tbs.

Vegetable Oil

1

Tbs.

Granulated Sugar

1

tsp.

Pure Vanilla Extract

1

tsp.

Baking Powder

1

Cup

Milk

1

Large

Egg

Pinch

Salt

Oil For Frying

Powdered Sugar For Topping
Instructions
In large mixing bowl add melted butter, sugar, egg, vegetable oil, milk, and pure vanilla extract and mix until well blended.

Gradually add flour, baking powder, and salt while stirring. Mix until well combined.

In a medium skillet heat up at least an inch of oil to 350 degrees.

Using a piping bag, cream syringe, or ziplock baggie to pour about two tablespoons of batter to your heated oil.

Funnel cakes are done when light brown. Fry for about one minute on each side. Repeat until all batter has been fried.

Remove from heat and cool on paper towel covered tray for about two minutes.

Sprinkle with powdered sugar and serve immediately.
Nutrition
Best Toppings For Funnel Cake
I love traditional funnel cake with powder sugar but there are so many great toppings you can use with your mini funnel cakes. Here are some ideas to get your started.
Strawberries and cream
Chocolate sauce
Vanilla Sauce
Vanilla Glaze
Caramel
Sprinkles
Mini M&M's
Ice cream
Nuts
Fresh jam
Peanut butter
Marshmallow fluff
Fluffernutter
Crumbled Reese's peanut butter cups
Nutella
Honey
Hot Fudge
Can You Keep Funnel Cake Warm?
Funnel cake is best when eaten fresh. But if you want to keep your funnel cake warm you can set your warming rack to 200 degrees and keep them for up to 15 minutes.
What Are Funnel Cake Bites?
These are just a shrunk down version of the full sized funnel cake you know and love. This bite sized funnel cake batter can actually be used to make full sized funnel cake.
Can You Refrigerate The Batter?
Absolutely can! This recipe is perfect for preparing ahead of time and frying later. Cover and refrigerate for up to five days.